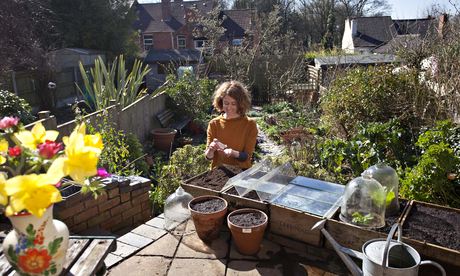 'Ditch the bag of slime in the bottom of the fridge and try a summer of home-grown salads.' Photograph: Sophia Evans
I am quietly confident that everyone can grow great salads. There's a risk your radishes may go woody; the lettuce could taste bitter or, worse, a slug may dine first; but if you fail at pea shoots and rocket, I suggest someone takes your pulse. With a bit of space in pots or beds, and a few packets of seed – lettuce, radish, rocket and peas, say – for the price of a couple of bagged supermarket salads, you have seeds enough for the whole season. So ditch the bag of slime in the bottom of the fridge and try a summer of home-grown salads instead.
Anyone with a window can grow pea shoots. If you can lay claim to some outside space, you can make a success of rocket, too (if it bolts, don't worry: the flowers taste lovely). Once you have mastered these two, the world is your salad bowl, so to speak.
The trick to good salads is good soil (it's the trick to all gardening, for that matter). For pots, you need good-quality multipurpose compost and a pot at least 25cm deep; the bigger, the better. Please, for the planet's sake, buy peat-free compost – brands such as Carbon Gold, Fertile Fibre, Petersfield compost and New Horizon are all excellent. When growing in the garden, if you dig a spade's depth and can't find any worms, your soil needs more organic matter. Dig in homemade compost, or well-rotted farmyard manure, horse or chicken manure.
All of the seeds will germinate outside without heat in spring, but wet, cold soil slows things down. Put your bare hands on the earth: if after a few minutes they are too cold to leave them there, don't sow. You can warm the soil with a covering of plastic (clear or black). Once the soil feels warm, sow your seeds. In the ground, sow in straight lines, in a block or make a wide drill; in pots, scatter seed across the surface of the soil. Sow little and often, and you will always have tender leaves to pick. Sow a pinch at a time, cover the seeds with a little soil or compost, and water in. If any seeds float, cover them up. Most of these seeds are small and don't want to be buried deep, so just a sprinkling is needed. (Pea seeds need to go a little deeper, say 2cm down.) Aim for an endless procession of lettuce leaf pickings, rather than a glut. When your first lot of seedlings are a few centimetres high, sow the next batch. If space is limited, sow half of a pot, wait for seedlings to appear, then sow the other half.
If you want micro greens, sow liberally across your space and don't thin. You may get two or three cuts of tender salads when they are 5-10cm high. After the third cut, they will become very tough.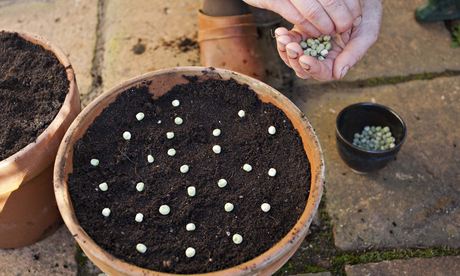 'In pots, scatter seed across the surface of the soil.' Photograph: Sophia Evans


If you thin, however, you get to pick for longer. The more space you give each individual plant, the more its root can grow, which is key to regenerating new leaves. A large head of lettuce needs 25cm of room in each direction. Pea shoots can be crammed in, roughly a few centimetres between seeds, while rocket needs to be thinned 15-20cm apart and radishes anywhere between 2cm and 5cm apart. I thin in stages until I have the right spacing, eating the thinnings as I go. Even radish seedlings are edible when young, so nothing need go to waste. You can transplant a few thinnings to other pots: choose those with the best root system, and water in well. To harvest lettuce, remove a few outside leaves from each plant; this will allow you to harvest for up to 12 weeks. Cut pea shoots around 5cm high (you want only the tender tips), while rocket is harvested the same way as lettuce; radishes are best small and crisp, say 2-3cm maximum.
If you are growing in pots, feed every other week from around six weeks on (multipurpose compost comes with six to eight weeks of food in it). For salads, use a seaweed extract, such as Sea Nymph organic liquid seaweed, Maxicrop or Agralan Comfrey Tonic. Add these liquid feeds to your watering can and use on alternate weeks to keep plants sprightly. On hot days, plants in pots need watering daily – continually thirsty salads turn tough and bitter. Slugs are your biggest enemy. Drowning them in beer is cheaper and better for the environment than slug pellets. Half a beer for you, half for the slugs, a little water for the salads, and you're ready to pick your supper.
Dress for dinner
When the leaves are young and tender, I prefer to dress them with a subtle vinaigrette of three parts olive oil, one part fresh lemon juice and one teaspoon of sea salt flakes. Alternatively, slice a quarter of a small red onion very finely and marinate in three to four tablespoons of olive oil for 12 hours. The onion cuts the oil much like vinegar would, and turns the dressing a lovely shade of pink. Add a little salt and dress the leaves. If the leaves get tough or bitter (this tends to happen towards the end of their life), a stronger vinaigrette is needed: I use three parts olive oil, one part balsamic vinegar, one part dark soy sauce and a small clove of garlic, lightly crushed.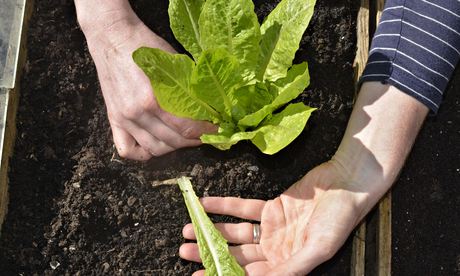 'Aim for an endless procession of lettuce leaf pickings, rather than a glut.' Photograph: Sophia Evans


Free seeds offer
Want to take up our summer of salads challenge? We're offering every reader five free packets of salad seed selected by Alys, plus a dibber tool for sowing seeds, all worth £13.44. You pay just £2.30 postage to UK addresses. Every reader will receive:
1 packet of rocket 'Wildfire', 1 packet of lettuce 'Ultimate Mixed', 1 packet of radish 'French Breakfast 3', 1 packet of romaine lettuce 'Chartwell', 1 packet of pea 'Ambassador' and 1 dibber tool.
To order, visit theguardian.com/offers/summer-of-salads.
• Go to theguardian.com/gardens to share your salad successes and tips, and to view Alys's step-by-step guide to sowing salads.