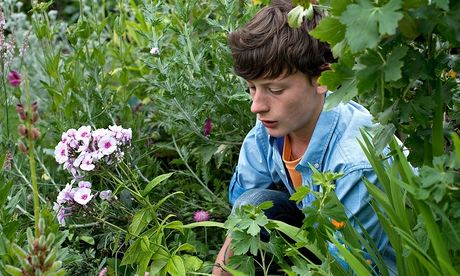 Lucas Hatch: 'I won the RHS Young Gardener of the Year competition in 2012.' Photograph: Sophia Evans for the Guardian
The garden means the world to me, I spend all my time there. I even garden in the rain. In the morning before school, I check the greenhouse and water the plants. When I get home, I go straight into the garden and spend about two hours there. I garden all weekend at home, and in the holidays I volunteer at Helmingham Hall nearby. I really like working with their gardeners –their borders are so colourful all year, and I want to learn how to do that.
I've got a vegetable garden and a flower garden, and I do everything except mowing the lawn. I leave that for my dad, because he enjoys it, but one day I'd like to mow the lawn, too.
My grandparents started me gardening when I was about four, sowing seeds of radishes and waiting for them to come up. It was fun, and I love radishes. My favourite crops are runner beans, lettuces and new potatoes; my brother and sisters and I all eat our vegetables. We cook, too. I like making courgette soup. I like the smell of tomato leaves, and coming into the greenhouse and picking a few to eat straight away. But my favourite thing is the colours in the flower garden: I like lots of bright colours.
I won the RHS Young Gardener of the Year competition in 2012, which was great, and I made a show garden at the Suffolk Show this year that won Best in Show. I designed it on the computer and my dad, grandad and brother helped me build it. We put in a vegetable border and lots of things for wildlife, and it looked really good. I also do plant trials for Thompson & Morgan, where I get to grow new varieties before they go on sale to the public.
My brother, who is 11, and my two sisters, who are nine and seven, love gardening, too. We all come home from school and garden together. There is always lots to do. They enjoy helping me plant seeds and weeding: there are always plenty of weeds to deal with, which isn't my favourite job.
My favourite spot
I like being in the flower border best. The colours are really bright. I've planted lots of red, orange and yellow flowers, like geraniums and daylilies. You can watch butterflies and bees. I like just standing there watching the insects. They teach you things, about pollination, about how plants work.
• How does your garden grow? Email space@theguardian.com