When I put my name down on the Camden allotment waiting list
in 1998 I expected to wait. But years
passed and I barely moved up the list. My long-nurtured dream of growing my own
food seemed no closer to fruition. The only thing growing was my frustration.
I was working in the centre of London, and living
in a first floor flat with an 8ft by 6ft balcony, six window sills
and a small patch of concrete (where the bins lived). I had imagined
that it wouldn't be possible to grow anything in the limited space I
had, but a year after putting my name down on the list, I started experimentally growing herbs in a
few pots on the window sills of my first floor flat. The following year I tried
tomatoes, then aubergines. Still, I clung to the idea that one day I'd have my
own piece of ground to grow in.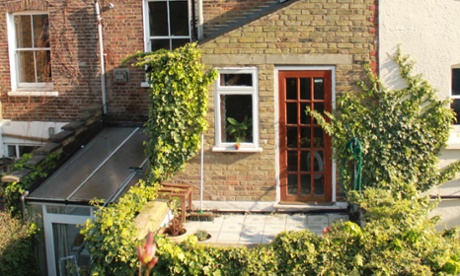 Then I heard that the allotment waiting list
had closed: those at the end of the list would be dead before their name came
up. I gave up on my allotment fantasy, but another idea germinated in its
place. I decided that I had nothing to lose by seeing how much I could grow at
home.
I had very little spare cash to spend on this new hobby so instead I
had to improvise. I made containers out of floorboards and large olive
oil
tins. I chopped up old bike inner tubes and used them as ties, cut up
plastic
milk bottles for plant labels, and converted plumbing pipe into a
self-watering
system. I discovered that old water cooler bottles serve very well as
cloches
and that scaffold netting makes good windbreak. I made a wormery out of a
plastic bin and started to feed the worms our waste food.
But there seemed to be no information out there on how to
grow fruit and veg in containers. I did a couple of courses but much of the
information provided wasn't really relevant to container growers, and the things
I did want to know (such as which size of pot to use, or which crops were best
suited to container growing) weren't covered. Most books revelled in Latin
names and gardening jargon, and even those that were supposedly aimed at
container growers didn't help. For example, the question of how to feed your
plants – one of the most important elements of container growing in my view –
was usually dealt with in a short paragraph, offering little more than the
advice to buy a bottle of general purpose fertiliser.
Instead I had to rely on some trial, and plenty of error.
But as I became more successful at growing, my vertical vegetable empire
expanded. A few pots became lots of pots, then as many as I could fit on the
balcony and windowsills. Soon, we were eating something "homegrown" for nearly
every meal. I told a friend that I was growing a lot of food, and he asked
how much a lot was, so I started to weigh what I was picking, and worked out
the equivalent supermarket value. In the first year of measuring I grew 83kg,
worth £900; I'd saved myself from buying 113 punnets of tomatoes, 144 packs of supermarket salad leaves, 51 packs
of peas and beans, and 165 packs of herbs. Weighing everything allowed me to
demonstrate exactly how much it was possible to grow on a few feet of concrete
(and I've preserved the details on my website if you'd like to see the
evidence)!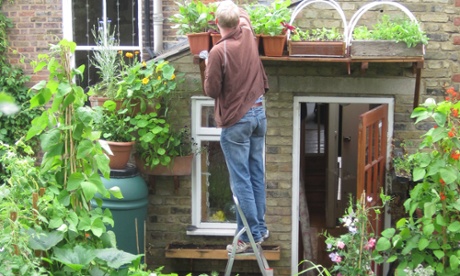 I began to add herbs to every meal. I experimented by growing all sorts of salad leaves which I hadn't tasted before, giving us over 20 different varieties to choose from at any one time in the summer. We ate things I had never seen for sale in the shops, including sorrel, lovage, wasabi and Vietnamese coriander, as well as beautiful edible flowers like nasturtium and viola. I grew plants just to satisfy my culinary curiosity, like purple peas, black cherry tomatoes, tomatillos and spiky fat baby achochas.
And I also began to talk to many of my neighbours for
the first time. Food growing gets you out of the house, on to the street – and
it seems nearly everyone wants to talk about food and plants. The squash plant
caused a particular stir one summer. The builders next door checked on its
growth excitedly, the Bangladeshi family up the road wanted to know if they
could have some of its leaves (widely eaten in Bangladesh, but hard to buy in
the UK). And everyone wanted to know if we'd get to eat it or if it would be
stolen first! My growing also strengthened my relationships with my neighbours.
They benefited from the surplus salad, and enjoyed picking rights (in exchange
for watering duties) whilst we went on holiday. I got to know the local deli
who gave me their food waste for my wormery – and sold some of my surplus
salads. I began to feel part of the local community for the first time.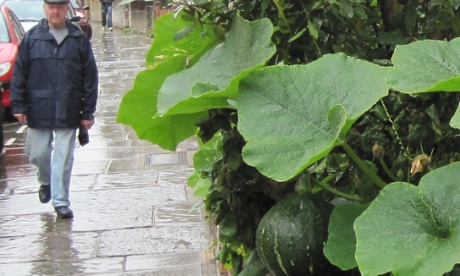 I wanted to share my growing knowledge so I began running
stalls at community events and found many people were inspired by the
images of
my balcony. I was often touched by how much plants in pots could enthuse
and
move people. One woman I talked to at the Belsize Park Green Fair had
tears in
her eyes as she stroked my lemongrass plant in a pot: she hadn't seen
or
smelled fresh lemongrass leaves since she'd left the country of her
birth eight
years before. I started offering workshops in local community gardens, in
the back rooms of pubs, and on other people's balconies and patios. I began to imagine running a social enterprise to help
people who
wanted to grow in containers. I ran through a list of possible names
with my friends Martin and Clare one evening. Martin suggested it should
be called Vertical Veg. We laughed – it seemed so silly. But the name stuck.
And then in
2011, my wife was offered a job in Newcastle. We packed up my pots and moved up
north. I had no idea if there would be any interest in Vertical Veg in the
city, given its strong allotment culture. I also had little idea of how to grow
in the cooler climate and shorter growing season. Reluctant to abandon my
Vertical Veg dreams, I began to learn how to grow food in the climate in our
concrete backyard of our terraced house, and put my effort into trying to
create a viable social enterprise online.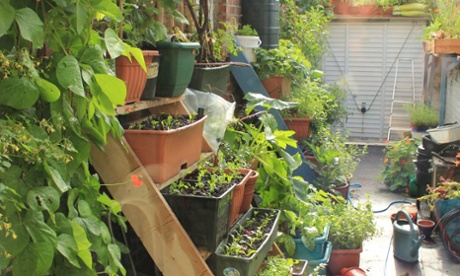 The first indication that this online incarnation of
Vertical Veg might be a success came when I posted an image of my balcony
accompanied by the text "No Space to Grow?" on the Vertical Veg Facebook page.
My meagre following of a few hundred shot up as the image was shared thousands
of times and I began to hear from fellow container growers from all over the
world. People wrote to me from all corners of the UK, and from across Europe,
Australia and the United States. I had enquiries from growers from Ethiopia,
Brazil, India, the Philippines, South Africa, and from someone in the Faroe
Islands. Sometimes these exchanges made me sharply aware of how different our
circumstances were – I'll never be able to offer much helpful advice on how to
deal with thieving monkeys, for example. But there have been local developments
too. Despite the large number of allotments in Newcastle, waiting lists are
long, while few of the city's terraced houses have gardens. I've been working with
Newcastle council and an organisation called Greening Wingrove to help develop
front of house food growing in Newcastle through the project Vertical Veg
Street.
Container growing has been transformed since I first placed
pots of mint and rosemary on my window sills in London. The residents of
Wingrove who take up the chance to grow their own in pots will be joining a
large and growing global community of container growers. In the UK, container
food growing now has a place in the mainstream. I've been asked to talk on Vertical
Veg at Kew Gardens, the Manchester International Festival, the Alan Titchmarsh
Show and even at the Ideal Home Show.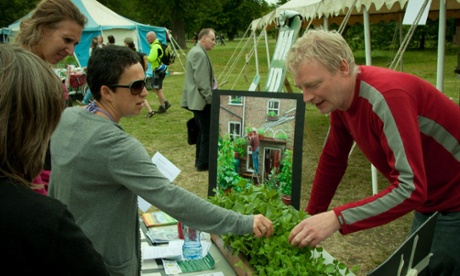 I'm delighted to find that so many other people have come to
appreciate the benefits of urban container growing. Some of these are obvious.
You get the food of course – fresh, tasty, good for you, and growing just
outside your window or door. And the plants you nurture mask concrete with lush
green life. Other benefits are less tangible but perhaps even more powerful.
Tending to plants can be restorative and restful. Healing, even.
Growing your own in an apparently unpromising urban space
offers an antidote to the pressures of modern city life. It gives you a way to
reconnect with nature, the seasons, and your local community. It reminds you of
where food comes from, giving you a greater sensitivity to the challenges
facing all farmers and food producers, and making you more aware of the issues
surrounding food growing. If more of us urbanites grew our own food it could help
reduce food waste and could make a small but not insignificant contribution to
food security in cities. All this, and every piece of fruit and veg you grow
yourself tastes so much better than anything you can buy in a supermarket.
You can get free seasonal tips and a fact sheet on growing
food in containers by subscribing here, and if you are already a keen container grower you can take a
peek at the Vertical Veg Club. For more inspiring images of container gardens around the
world, see the Vertical Veg Facebook page.
Mark will have a stand at the London Permaculture Festival
on 6 July and will be talking there about self-watering systems – more information on Greening Wingrove.
Interested in finding out more about how you can live better? Take a look at this month's Live Better Challenge here.
The Live Better Challenge
is funded by Unilever; its focus is sustainable living. All content is
editorially independent except for pieces labelled advertisement
feature. Find out more here.