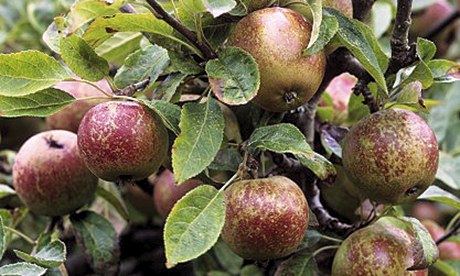 Apple 'Tydeman's Late Orange' is fairly trouble-free, with firm, juicy flesh. Photograph: Derek St Romaine/The Garden Collection
When I finally had a garden big enough for apple trees, the 18th-century variety 'Orleans Reinette' was one of the first I planted. Why? Because apple enthusiast Edward Bunyard told me to. "This magnificent fruit cannot be too highly recommended," he raves in his Handbook Of Hardy Fruits, published in 1920. Bunyard describes it as "very crisp, sweet, juicy and of the highest flavour intermediate between Blenheim Orange and Ribston Pippin". Really? My tasting notes read: dry-fleshed, OK flavour, better suited for culinary purposes. Every time I moved house, I made the same mistake: 'D'Arcy Spice' (c 1785), 'Calville Blanc d'Hiver' (16th century) and 'Court Pendu Plat (c 1613): all were chosen for their wonderful historical descriptions, and all disappointed.
So what's happened to tastebuds in the past few centuries? My belief is that modern palates have been raised on an apple that has the most complex flavour of them all: 'Cox's Orange Pippin' (c 1825). Sweet, crisp and juicy, with a nutty, pear-like flavour and a hint of spice, it outshines all older cultivars. What a shame it is tricky to grow in the garden, producing rather small fruit and prone to mildew, canker and scab.
The problem may also be that we've become a bit apple-snobby, knee-jerkingly rooting for the older underdog due to overexposure to bland, newer varieties found on supermarket shelves. If I had my time again, I would plan things differently, unswayed by the likes of Mr Bunyard.
With more than 2,000 cultivars believed to exist in the UK, there are plenty to choose from. First, let us rule out those that are easily bought in the shops or farmers' markets. In recent years, demand has risen for heritage varieties due to the success of Apple Day and similar fruity festivals. Second, let us not be weighed down by the thought of having to preserve our heritage cultivars. Leave that to those with room: RHS Wisley and the National Fruit Collection at Brogdale Farm.
Finally, the chosen cultivar should be easy to grow. Scab, canker and mildew are the worst in the disease department and some resistance is necessary. The cultivar should also be one that keeps for a reasonable length of time. One hindrance is that most apples need a compatible pollinator (ie another apple in flower at the same time), otherwise there will be no fruit. In suburban areas and villages, this is not such a big deal, because so many gardens have apple trees, including crab apples, and bees will spread their pollen far and wide.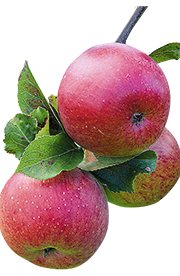 Apple 'Lord Lambourne'. Photograph: Alamy


Two descendants of the Cox fit our criteria, both of them from the 1900s: 'Laxton's Fortune' and 'Lord Lambourne'. Both have juicy, sweet aromatic flavour and are fairly easy to grow in the garden. 'Tydeman's Late Orange' (c 1930) is also worth considering, as an offspring of one of the best tasting apples ever: 'Laxton's Superb' (which sadly cannot be included here, owing to its tendency to crop biennially). 'Tydeman's Late Orange' is fairly trouble-free, with firm, juicy flesh, and stores well from December to March. Some say it's slightly biennial, but not on my patch. I also have a lot of time for 'Suntan' (1956), a Cox crossed with 'Court Pendu Plat', which has the latter's wonderful, pineapple taste and the former's aromatic charm and juicy texture. It is a heavy cropper and easy to grow.
If I could have only one apple, however, and provided there were plenty of pollinators nearby, 'Sunset' (raised in Ightham, Kent, and named in 1933) would be my choice. It sprang from a Cox seedling with all the very best bits from its parent, yet is a doddle to grow. It's a tree that keeps on giving and the fruit can reliably be found on the Christmas Day table. If I needed pollinators, 'Lord Lambourne' and 'Tydeman's Late Orange' would do the job.
Jim Arbury, head of the fruit department at RHS Wisley, suggests some even newer varieties, owing to their good disease resistance and excellent taste: 'Santana' and 'Topaz' (1990) have both done well in spray-free trials. If only I had space for a few more.
How to plant

The most economical way to buy apple trees is as a bare root (in other words, not in a pot), and now is the time to do it. The season runs until early spring – or, more usually, until stock runs out.
Apple trees are sold as "maidens" (one year old) or "feathered maidens" (two years old). I prefer maidens, because you have more control over their early development. They are grafted on to rootstock that, among other things, governs their ultimate size. The most common are: M9 (makes a bush tree of about 6-10ft tall), MM106 (bush tree 12-18ft tall), MM111 (tree 18-22ft tall) and M25 (standard tree). Plant bare-rooted trees as soon as possible after they arrive. If the ground is frozen, or you can't plant for some other reason, heel them in by placing the tree in a shallow trench, angling the trunk and covering the roots and the bottom of the trunk with soil. Keep moist until you can plant it out properly. To do so, dig a hole that will accommodate all of the roots comfortably and loosen the bottom of the hole with a fork to promote drainage. Plant the tree to the same depth as in the nursery. Backfill the hole, firming the soil as you go. Water thoroughly, mulch and stake the tree.
READER OFFER
Buy apple varieties 'Sunset', 'Laxton's Fortune' and 'Lord Lambourne' for £19.99 each (prices include free UK mainland p&p). To order, call 0330 333 6856, quoting ref GU131, or visit our Reader Offers page. Supplied as bare roots; delivery from this month onwards.