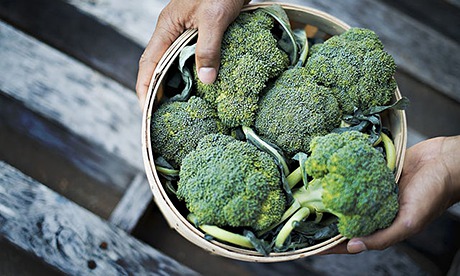 The sculptor Peter Scheemakers is said to have introduced broccoli to Britain in the 18th century. Photography: Alamy.
If you don't like broccoli… well, firstly, why are you reading this? Secondly, you may have problems with your so-called "brussels sprout gene"; thirdly, you may simply be a big baby who needs to snap out of it; and fourthly, you should take it up with the Flemish sculptor Peter Scheemakers. Except you can't, because he died more than 200 years ago.
Scheemakers, who's otherwise best known for Shakespeare's monument in Westminster Abbey, is said to have introduced broccoli to Britain in the middle of the 18th century. A relative of cabbage, kohlrabi, cauliflower and kale, this brassica is believed to have been cultivated around the Mediterranean since the sixth century BC. So why did it take so long to reach here? Perhaps we just didn't fancy the idea of eating flowers.
Anyway. There's still time to plant a crop for this year. The complicated way involves raising seedlings in modules, then moving them to their final positions; otherwise simply sow the seeds where you want the plants to mature, about 30-40cm apart, between early spring and early summer. To prevent gaps in your planting, sow seeds in groups of three, then thin to one once they emerge.
Alkaline soil is better than acid, which increases the risk of clubroot, an infection that leads to stunted growth; for advice on how to measure and modify your soil's pH, go to rhs.org.uk/advice. Aiming for a figure between pH6.5 and 7.
Cover young plants with fleece to protect them from flea beetle and other pests, water well during dry spells, and check the underside of leaves for the pale yellow eggs of cabbage white butterflies. The caterpillars are voracious.
Most varieties of broccoli (often known as calabrese) can be harvested within four months; slice off the central head, leave the plant in the ground, and little side shoots will give you a second crop.
For the smaller, more tender shoots of purple or white sprouting broccoli, you may have to prepare yourself for a wait: most need a period of vernalisation (exposure to cold), so they won't start cropping until late winter or spring. But a number of hybrids will give you something similar a lot more quickly. Bordeaux, for example, is a cross between calabrese and purple sprouting broccoli. Sown 60cm apart between February and June, it can be ready within four or five months.
Phil Daoust is a food writer based in England and France. Twitter: @philxdaoust