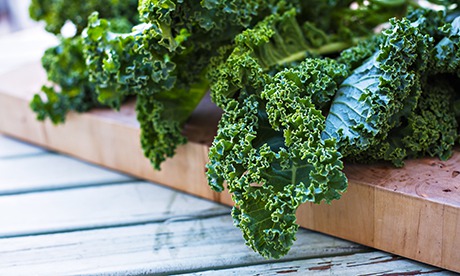 Plan ahead and you can be harvesting kale for most of the year. Photography: Alamy.
Kale is not just delicious; it's good for you. If you don't trust WebMD (which calls it "one of the healthiest vegetables on the planet"), or discoverkale.co.uk ("Kale truly is super"), then listen to Gwyneth Paltrow. "Kale is full of calcium and antioxidants and just about everything else," the actor-cum-lifestyle-guru-cum-amateur-nutritrionist wrote in this very newspaper last year. "When juiced with a bit of lemon, apple and ginger and a tiny hit of refreshing mint, it turns into a sort of grassy lemonade."
Grassy lemonade, eh? Mmmmmm… If, for some reason, that idea doesn't appeal, then there's loads of alternative use for this so-called superfood. After decades of neglect, when it was dismissed as little better than cattle fodder, this leafy brassica is back in fashion on both sides of the Atlantic. If you don't fancy Annie Somerville's kale crisps, Jack Monroe makes pesto with kale, while Hugh Fearnley-Thingummy shreds it on to pizza and stir-fries it with beef and cashews. And if you want to give Gwynnie another chance, she has an interesting recipe for an almond and kale smoothie…
With a little planning, you can be harvesting kale for most of the year. For young leaves in summer and autumn, sow seeds from early spring to early summer, 15-20cm apart in moist but firm soil, ideally enriched with compost a few months before. A sunny spot is best, but kale can stand shade better than most vegetables. Start harvesting three to four months later – whole plants once they are 15cm high, or a leaf here and there once the plants reach 25cm. Make sure you don't strip too many from any single plant, and favour the tender inner leaves over the tougher ones that surround them.
For larger specimens to see you through winter and spring, sow seeds into trays or modules in mid- to late spring, then move the plants into their final positions in early to mid-summer. Set them 50cm or so apart, depending on the variety. You should be able to start picking leaves from late autumn.
Tall kales may need to be staked in winter, but don't worry too much about cold. They can survive down to -15C before bouncing back in spring, when the new shoots will help fill the notorious "vegetable gap". Frost actually improves their flavour, by encouraging the plant to turn its starches into sugar.
Phil Daoust is a food writer based in England and France. Twitter: @philxdaoust