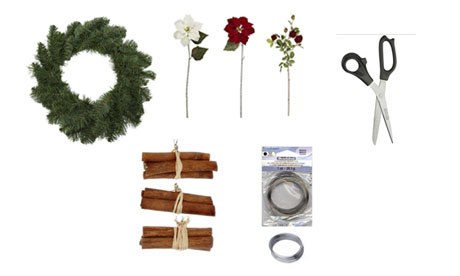 You will need
A plain wreath
Fake flowers of various sizes and colours, to your own taste
Scissors or wire cutters
Craft or jewellery wire (thin enough to twist by hand)
Ribbon
Decorations, cinimannon sticks or other adornments according to taste
How to make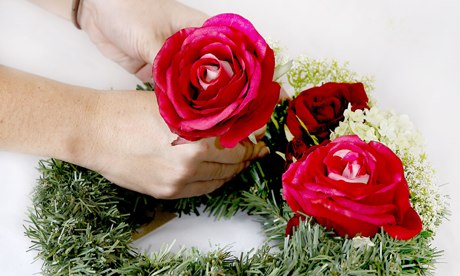 1. Fear not, you don't have to start from scratch. Begin with a plain wreath as above – from £12 – and add your decorations using wire or wired flowers.
2. Find the top and bottom of your wreath – the bottom being the point where you would like the ribbon bow (or other key feature) to sit. At the opposite end, place a large flower head, cutting the stem but leaving enough to push through the wreath and twist around the back, around the wire frame that backs the wreath. It will hold in place easily, but you can also use craft wire for added hold or to secure flowers that aren't wired.

3. Use either individual flowers or cut apart a spray (of roses, for example, as above) into individual stems. This gives you different sizes to play with. The Poinsettia is of course the flower most associated with Christmas, but unlike the real thing, these silk versions won't die if you forget to water them in the new year.
4. Work around from the top in both directions, and don't worry about gaps, they can be filled in at any time.

5. Attach your bow and secure in place with craft wire, or tie on with another piece of ribbon.
6. You can then add more seasonal joy with, for instance, cinnamon sticks, which will also fragrance your home. These ones come complete with hangers for easy securing.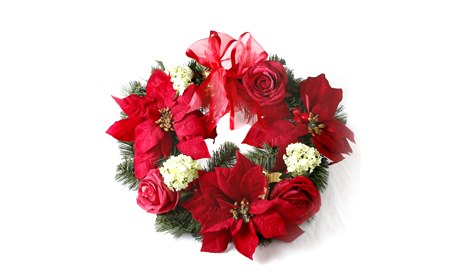 Poinsettias – the ultimate in festive flowers


More top tips
• Decide what you want to achieve first – sketch out a rough design or compile ideas from magazine cuttings.
• Add a hanger at the beginning if you need one, it's easier than adding at the end
• If you don't have much time, you can find wreaths that come part decorated – just add your personal touch
• Keep stems to a similar size. Twice the depth of the wreath should allow plenty of excess for securing into the base.
• Space flowers evenly. Smaller flowers such as gypsophila and viburnum are useful for filling in spaces. Beaded berries, cinnamon sticks and Christmas decorations all make excellent finishing touches.
• Don't worry if it goes wrong, simply pull the blooms out and start again.
• You can also update your wreath next year – change the colour scheme, add some more decorations or replace bits that may have got damaged in storage.