Walking on eggshells? Add them to your soil instead. Photograph: Kim Stoddart
I take "a little bit, every now and again" approach to feeding my plants because I know if my soil is looked after and well-watered – they will grow. Having dabbled with making nettle and comfrey fertilisers and tinkered with using wood ash around my soft fruit bushes, I fancy seeing what else I can make for nothing to aid my efforts this year.
I'm looking for quality of ideas, rather than quantity, so my thoughts turn to what I've loved using in the past when I wasn't gardening for free. Top of the list has to be Garden Organic's seaweed meal, which is an all-round soil improver. I start wondering what I could do with mineral-rich seaweed myself, and decide to give Garden Organic a call for advice.
I am referred to Maggi Brown, who worked on their gardener advice line for many years and so is bound to have a trick or several up her sleeve. I've used whole seaweed before, buried around my asparagus plants, but I'd like to find out how I can use this great material elsewhere. Maggi suggests either putting it whole in the compost pile, or cutting it up and mixing it in with the soil around plants. On the home-made fertiliser front, she is a big fan of nettle and comfrey "tea" respectively, and extols the virtues of leaf mould (a lazier version of which I looked at last month).
I tend to gather washed-up seaweed every time I go to a beach, which is fine to do because it's for non-commercial use. As with any foraging, it is okay to take a little bit but, understandably it is considered impolite (and irresponsible) to take it all.
I'm also going to have a stab at steeping some of the seaweed in water (for a few weeks as you do with comfrey and nettles) to make a liquid feed. I'll wash it first to remove the salt and I fancy adding a teaspoon or so of the organic blackstrap molasses I have kicking about in the cupboard to supercharge it.
My soil tends to err slightly on the acidic side in places in the polytunnels, so next up I'm looking for ideas for a lime replacement that will enable me to raise the pH of the soil a little. I've heard before that wood ash can work well so I'll give that a go, although I shall avoid putting it anywhere near spuds as it can increase the risk of potato scab. If I can get hold of enough, I'll also use some round my brassicas, and I fancy experimenting with sprinkling a little in the rows when I sow my carrot seed, as it's reputedly very good for them.
Another possibility I've read about is eggshells. They are meant to work because they are so high in calcium carbonate, which is effectively the same ingredient as lime. To use them, you need to dry the shells so they are easier to crush and then turn them into fine power in a blender. I hear that snails and shellfish (such as mussels and oysters) also have shells that could be used in the same way, which is interesting to know but, yes well, I won't be doing anything about that in a hurry. You can also use crushed chalk as well.
On the flip side of the proverbial coin, if you want to make acid-loving plants happy, many people recommend using coffee grounds (from a coffee machine or cafetiere, say). They work well mixed into the soil or scattered on top. I'll be giving this a go for my roses and blueberries for starters and if I quaff enough coffee (there's a challenge), I'll move onto using it around some of my tomato plants later in the year.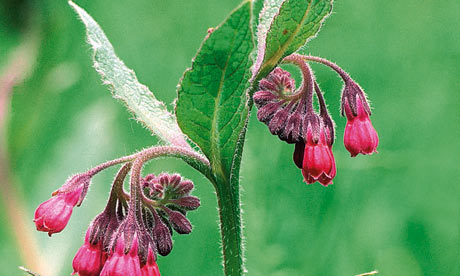 Comfrey is a rich source of food for plants. Photograph: Alamy


After my chat with Bob Flowerdew last autumn – I'm also going to add some borage to the comfrey tea I make, as he recommended this makes a better all-round fertiliser than comfrey alone. I had some seeds anyway, so I've planted a small patch which I can harvest and use this growing season.
Finally, I also found out that banana-skins (rich in potassium) can be buried in the ground to feed acid-loving roses. And we all know that urine, high in nitrogen, phosphorous and potassium, is great for your plants. But, again I'll be adding this to the "good to know, but definitely ones to pass on for now" list … as if I haven't got enough to be doing without collecting wee and burying bananas in the ground. As always, I'd love to hear your ideas and experiences on the subject on this forum.