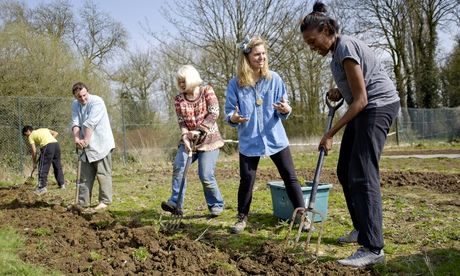 Volunteers working at Oxgrow, Oxford. Photograph: Frantzesco Kangaris for the Guardian
One mile from Oxford city centre, Hogacre Common is a beautiful eco park with fields, woods, an orchard, bee hives and – behind the fence of an old tennis court – a garden bursting with fruit and vegetables. Parts are quite overgrown, so you feel like you're in a wilderness. It's easy to forget that the city is there at all.
As recently as 2010 the park was an abandoned college sports ground, which developers had rejected because it was on a flood plain with no vehicle access. Back then I was studying modern languages at Oxford, and with three friends had decided to try and build a community garden. We'd never done anything like it before, but we wanted to create a place where local people could learn to grow their own food.
Finding our plot
We wrote a proposal outlining our vision and decided to approach Oxford's two biggest landowners: the council and the university. We also contacted other local groups, and stumbled across one embarking on a project to build an eco park. They told us they had acquired a five-hectare abandoned sports ground, and that one part of their vision was a food-growing project. They agreed to let us set up OxGrow within their park.
Make do and mend
Our little patch was made up of two grass tennis courts that hadn't been used for a year, with knee-high grass and tall fences. There was a big gap in one of the fences, which we immediately patched over using the tennis nets – the start of what became our "make do and mend" philosophy.
Rather than focusing on money or garden design at this point, we wanted to engage the community. We invited local residents, students and anyone who knew anything about growing vegetables for a big meeting. About 25 people turned up, and together we worked up four aims that would be our guiding principles: education, demonstration, experimentation and community building. We decided the garden must be open and staffed every Sunday, which felt just about manageable alongside our work and study commitments.
The next stage was the beg and borrow project. The local allotment site donated their pre-war water butts, which we had to roll through the streets of Oxford and over the railway tracks to the garden. We got someone who fixes canoes to patch them up. At a party, I moaned to someone about how we had to lug huge buckets of water from the river to the garden. The next day, he turned up on site and built us a bicycle-powered water pump. All of this was so much more fun than buying things new. Having no money forced us to reach out for help, and we made so many new contacts and friends who were always happy to share knowledge and resources.
Planting and growing
Transforming our tennis courts into a garden was slow. We didn't plan, but just built things where they were needed. We made raised wooden beds, grew climbing plants against the fence, used Jerusalem artichokes as windbreakers in a weather-beaten corner, and built the compost heap near where people would be cooking. We hauled old railway sleepers into the middle and made seats for tea breaks and meetings.
We also linked up with a scheme called Garden Organic, which had discovered people from all over the world were growing exotic crops in the UK. They collected seeds, which they shared with us. We were soon growing loads of whacky vegetables like shark fin melons, a gourd from China, which sprawled all over our squash patch until we cooked them up in a big soup.
Moving on
Four years later, OxGrow is established, and is now run by a new team. Each Sunday, between eight and 30 volunteers tend the garden. At our annual harvest festival, hundreds of guests come to cook, eat and dance.
The ripple effect of the garden has been amazing. The original team went on to create Cultivate Oxford, a four-hectare market garden and mobile veg shop. Another group set up Abundance, an urban fruit harvesting project. Others set up a farmers' market. There have been so many people off working on other projects, OxGrow has sometimes struggled with staffing. But that's a pretty good problem to have.
Top tips
If you want to create a garden
1. Talk to everyone Spread your vision to recruit allies
2. Don't fret about cash 'Beg and borrow' should be your mantra
3. Make it a shared vision Involve as many people as possible
4. Open it up to anyone The garden's strength will lie in its wide appeal
5. Cultivate people, not just crops A strong team is what makes a project
For more details about the Oxgrow project, and how to get involved, visit oxgrow.org