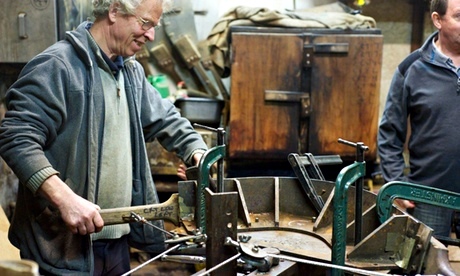 Craftsmen at work: the shop at oak furniture makers Gaze Burvill. Photograph: Tom Hoblyn
Monday
I don't mind admitting that these last few months have been absolutely hideous, much of it climate-related. I visited our long-term restoration project, Hillersdon House, now in its third year. Or should that be Hillersdon Island? The approach from Taunton is mostly submerged and surrounding roads closed. The contractors are seriously hindered by the wet, and mindful that they will be financially penalised for not finishing on time: at the same time we want all landscaping to be conducted in ideal conditions. This is when contractor/client/designer relations become tense: the client wants their house and garden, the contractor wants to finish on time and I want a garden that flourishes from the off. We spent a tense day negotiating an all-party desirable result: we plan to monitor conditions as the deadline approaches, but will call a halt to works if necessary. Fortunately, we now have a polytunnel and laying out area on site so we can hold any plants should we have to take delivery prior to conditions improving.
Tuesday
A detour on my way back up to Suffolk took me to oak furniture makers: Gaze Burvill. I am there to advise on their Chelsea Flower Show exhibit, as they want a "real garden" setting and I managed to wangle a fascinating tour around the workshop. I had always wondered how they managed to create that "handmade by craftsmen" look and now I know: everything is handmade by craftsmen. The steam bending was in progress using techniques unchanged for centuries. Modern techniques were much in evidence too, with a state of the art cutting machine that carves a single piece from 3D CAD drawings, negating the need to batch cut and hold lots of space consuming stock. They are about to move to premises where all the oak offcuts will be used to heat the buildings.
Wednesday
Not only has the elemental climate affected work, but the economic climate has too: last year, several long-term projects finished with little new work to fill in. So much so, that when two of my team left last year I did not recruit replacements. For the month of January I wondered if my phone worked. But is it any wonder? Not only are people put off by the weather, but also the luxury of a new garden is understandably low on the list of financial priorities. We are told that the economy is improving but it will surely take a while to filter through.
Then the oddest thing happened: we had two enquiries today – both hotels. One is in Cornwall and the other very local. The latter I was able to visit in the afternoon. I had worked for the client many years ago on his private garden. This new project is the restoration of hotel and grounds on par with its 4 star status.
Huge ancient yew topiary flank the terraces with a magnificent lime avenue framing the driveway. Even more exciting is a walled garden (with crinkle-crankle walls) that the owner wishes to re-activate to supply the kitchens, having poached a top notch chef from London. I'm in heaven … just a small matter of fees to sort out. The other project I plan to visit next week.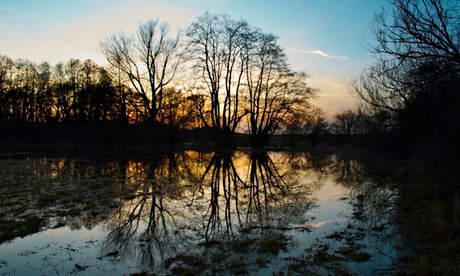 Suffolk is one of the driest counties, but even here the meadow has flooded. Photograph: Tom Hoblyn


Thursday
Someone must be looking down on us: we have the go-ahead for a restaurant garden in London, working with the Guardian's very own Alys Fowler, no less. Alys and I had presented some ideas to the clients before Christmas, but it had gone awfully quiet. Now contracts have been scrutinised, budgets set, fees haggled and we can finally start. Typically there is a mad panic for drawings so that materials can be ordered to meet the tight deadline. I am now very short staffed and start putting in calls to freelancers.
Friday
Met the topographic surveyors at our new hotel project. It is important to get detailed surveys done for all projects. Levels, existing buildings, trees, shrubs etc. must all be plotted. We ask for measurements every half metre in main parts of the garden and one metre elsewhere. We also ask for them to be measured as 3d loci so that we can model the terrain easily using software such as Sketchup and Vectorworks.
It's amazing how things have changed since my training days at Kew. Then our surveying lecturer taught us to survey using chains (uncontrollable slinky-like strips of metal that measured 66 feet). This required throwing the unthrowable chain in such a way that it laid out in a straight line so one could measure objects trigonometrically in increments of links. 100 links equals four rods or one chain, with 10 chains in a furlong and 80 chains in a mile. Don't you just love the metric system?
Weekend
Suffolk is traditionally one of the driest counties, but we too have been affected by recent weather. Our garden backs onto fen-like wetland and is quite low-lying. The ancient ditches are no longer dredged on a regular basis and have become choked with silt. This means the water backs up each year, but not as much as this year. Our woods and meadow are completely submerged, with tree branches reaching skyward from the watery depths. Visually quite beautiful but worrying for wildlife. Luckily we have one bit of high ground where our sheep may safely graze as we hope the weather improves before they lamb. The Shetland breed may be tough and resilient but they don't do breaststroke.
• Thomas Hoblyn is a landscape and garden designer. This is the latest in a series of posts on the ups and downs of a life spent creating beautiful gardens.