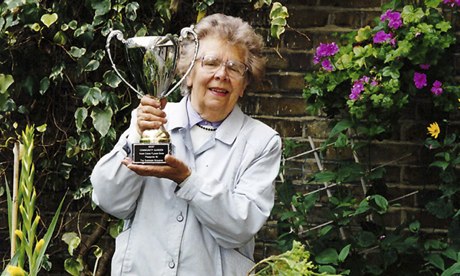 Olive Delves retired to the rundown Red Lion estate, Camden, and set about transforming it with plants and shrubs. The gardens have won many awards
For 37 years Olive Delves, who has died aged 96, was responsible for all the catering at Kingsway Hall, the headquarters of the West London Mission where Donald Soper (Lord Soper) was superintendent minister for many years. This included daily meals for the elderly as well as for the orchestras and musicians who used the hall for recording. She was known for taking on and encouraging staff who had difficulty in finding employment. Olive was a friend and inspiration to many.
She was born on a farm in Polegate, East Sussex, but her life changed dramatically after her father died when she was 10. The family moved into the town and Olive, being the oldest daughter, took on the cooking and housekeeping for her two brothers and younger sister, while her mother did cleaning work to earn money.
When war was declared in 1939, Olive, a pacifist by Christian conviction, took a job in the kitchens of the Queen Victoria hospital, East Grinstead, where the pioneering surgeon Sir Archibald McIndoe was working with airmen suffering from severe burns. After the war, she moved to London in order to study cookery and was offered a room at Kingsway Hall.
The hall closed in the early 1980s and the headquarters of the mission moved to Hinde Street Methodist church. Olive retired and moved to a flat on the rundown Red Lion council estate, in Camden, which was often strewn with rubbish. Olive soon set about changing that. She placed window boxes all along her balcony and others began to follow suit. She had the place tidied up and planted flowering shrubs. Over the next 20 years, the estate was transformed into an oasis of green and colour. Graffiti gave way to flowers. It now earned the name of the "Bloomin' Red Lion estate".
The gardens won many awards, from Camden in Bloom, London in Bloom, and the London Garden Society, among others, and in 2005 Olive was voted one of Camden's "most exceptional" people. In 2001 she received the Royal Maundy money from the Queen in Westminster Abbey and in 2003 was interviewed for BBC Radio 4's Woman's Hour. Her greatest accolade is that the Red Lion estate won joint first prize in Camden in Bloom again this year.
Olive is survived by three nieces, Jane Read, Bridget Hills and Sharon Hellier.