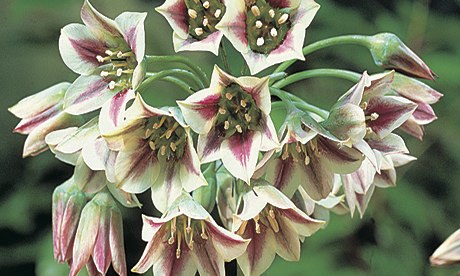 Allium 'Summer Bells': Bell-like flowers marked with dark purple, lime green and cream.
What is it? A late spring bulb with a cluster of bell-like flowers marked with dark purple, lime green and cream, arranged sparkler-style atop a 1m green stem. This member of the allium clan goes under many names, including Allium bulgaricum, honey garlic, Bulgarian allium and its official Latin name, Nectaroscordum siculum.
Plant it with? I like them paired with grey-green hostas such as 'Halcyon': see Veddw House Garden in Wales . And you can't go wrong with the lime-green flowers of lady's mantle, Alchemilla mollis.
And where? Plant the bulbs 15cm deep and 25cm or more apart. You can naturalise them in grass, but you'll have to keep the mower at bay until mid-summer. Otherwise, they're happy in most soils and in sunshine or shade, but incorporate some grit when planting if you're on heavy clay.
Any drawbacks? If you don't plant it deep enough (and even if you do), it can flop. Grow tall hardy geraniums or A. mollis around the base to support the stems: this will also hide the long, floppy leaves and avoid staking. Some gardeners complain they're rampant self-seeders.
What else does it do? The seedheads are charming: they look like a cluster of tiny spears. Leave them in place, unless you don't want it to spread.
Buy it Order 10 bulbs for £10.99, or 20 for £14.98 (all prices include p&p). To order, call 0330 333 6856, quoting ref GU108, or go to theguardian.com/offers/plants. Supplied as bulbs; delivery from this month.