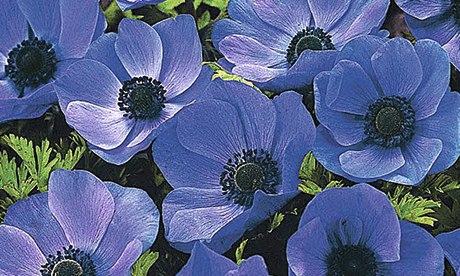 Anemone 'Mr Fokker': 'A Mediterranean dweller that thrives in well-drained sandy soil in full sun.'
Anemone 'Mr Fokker'

What is it? From forsythia and primroses to daffodils and aconites, yellow is spring's signature colour, but if you find that all too garish, turn instead to the rich blue blooms of this poppy anemone. 'Mr Fokker' throws up large saucer-shaped flowers from feathery foliage from March to May. Expect a height and spread of 35cm x 20cm.
Plant it with? It looks good on its own in a chunky, traditional terracotta pot, or team it with a strong pink tulip such as 'Barcelona', sky-blue grape hyacinths or other members of the same clan, such as A. coronaria 'The Bride' (white) or 'Sylphide' (dark pink).
And where? This Mediterranean dweller thrives in well-drained, sandy soil in full sun. Soak the corms for a few hours before planting, then plant shallowly (5-8cm deep), leaving at least 10cm between corms.
Any drawbacks? You may be flummoxed when it comes to the corms, which nurseryman Ian Percy aptly describes as resembling "wrinkly toes which have emerged from a long soak in a bathtub". Some advise planting on their sides; others say bristly side up. They'll right themselves either way.
What else does it do? This anemone makes delightful cut flowers.
Buy it Buy 25 corms for £9.99, or 50 for £11.98 (including free UK mainland p&p). Call 0330 333 6856, quoting ref GU138, or visit our Reader Offers page. Delivery from this month.