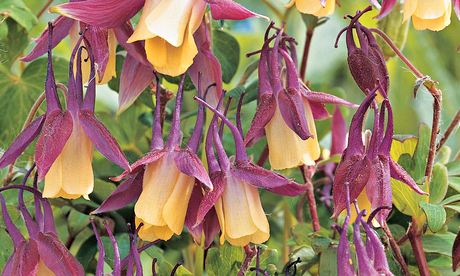 Columbine 'Blackcurrant Ice': 'You'll need to get down on your hands and knees to enjoy this one.'
What is it? The blooms on this plant look not dissimilar to a ceiling light I've just bought: each flower is a tiny chandelier in buttery yellow and rich purple. The blue-green feathery foliage is a good foil, too. But you'll need to get down on your hands and knees to enjoy this one: with a height and spread of just 20cm, 'Blackcurrant Ice' is a dwarf form of aquilegia.
Plant it with? Given its diminutive size, I'd say you're better off planting this columbine in a container to place on a table or plant stand and enjoy without having to stoop. Otherwise, plant it in a clump at the front of a border, or scatter it through a rockery (if anyone still has one). Dark-leaved heucheras such as 'Obsidian' are a perfect complement, or try a backdrop of lime-green lady's mantle (Alchemilla mollis) or hart's tongue fern (Asplenium scolopendrium).
And where? Columbines have been cottage garden favourites for centuries because of their tough disposition. 'Blackcurrant Ice' will cope with some sun, but hates parched soil: choose light shade and a moist (but not waterlogged) spot.
Any drawbacks? It may seed itself around, but its offspring may not come true to the parent plant.
What else does it do? Cut the flowers just before they open to put in a vase.
Buy it Order five plug plants for £8.99, or 10 for £12.98. All orders include free p&p. To order, call 0330 333 6856, quoting ref GU195. Or shop online at theguardian.com/offers/plants. Delivery June to July.