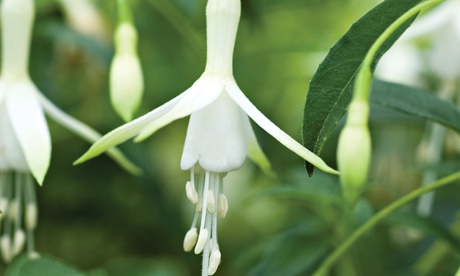 Fuchsia 'Hawkshead' is a tough shrub that will thrive in a sheltered spot
What is it? You'd think this was a tricky tropical number, likely to cringe at the slightest dip in the thermometer. Yet 'Hawkshead' is a pretty tough shrub: it will thrive in a sheltered spot in most British gardens, especially if you tuck it up for the winter with fleece or mulch. Most fuchsia flowers are pink and purple frou-frous, but this has elegant, slim, white flowers with a hint of pink. Treat 'Hawkshead' right and it should flower from early summer into autumn. Height and spread: 90cm each way.
Plant it with? Would look good with hydrangeas and witch hazels (hamamelis). Or plant as an informal hedge, or on its own in a large pot.
And where? Hardy fuchsias are not particularly fussy about soil, as long as it's fairly fertile and not prone to drying out. Sun or partial shade will do.
Any drawbacks? In winter it dies back to leave a not altogether lovely skeleton of stems; but by then you'll be indoors, browsing the plant catalogues, won't you?
What else does it do? It's a great source of food for the caterpillar of the beautiful elephant hawk moth, although the caterpillar itself is rather harder to love and may strip the foliage, given sufficient time and numbers.
Buy it Order three plug plants for £9.99 or six for £14.98 (prices include free UK mainland p&p). To order, call 0330 333 6856, quoting reference GU169, or go to ourReader Offers page. Delivery by the end of March.