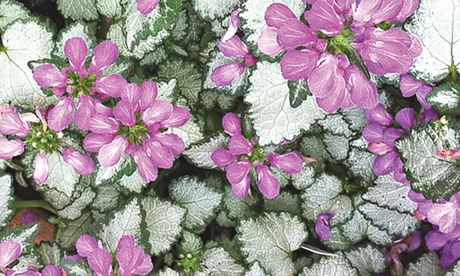 Lamium 'Mega Purple': Lighten up dreary corners.
What is it? Its common name, deadnettle, is unglamorous, but this lamium makes the best ground cover for tricky, shady spots. Its silver, heart-shaped leaves with a green rim lighten up dreary corners, and the mauve (OK, "Mega Purple", if you must) flowers appear reliably from June until October. This is a ground hugger, though, reaching a height and spread of just 30cm x 45cm.
Plant it with? A carpet of this stuff punctuated with other, taller, shade lovers – hostas, rodgersias, aquilegias, pulmonarias – would look stunning. You could also run a strip along the edge of a shady border as an accent.
And where? Did I mention shade? Soil should err on the damp side, if possible, at least until plants are established.
Any drawbacks? If content with its spot, this lamium may start to overstep its bounds. In that case, lift and divide clumps in late autumn or early spring, and pass the extras on to a gardening friend. If it's not spreading far enough, dividing will help, too.
What else does it do? This makes an unusual low-maintenance plant for a hanging basket, provided it's positioned out of the blazing sun.
Buy it Order three plants for £9.99 or six for £14.98 (prices include UK mainland p&p). To order, call 0330 333 6856, quoting ref GU193, or go to our Readers' Offers page. Supplied as plug plants; delivery from May to June.