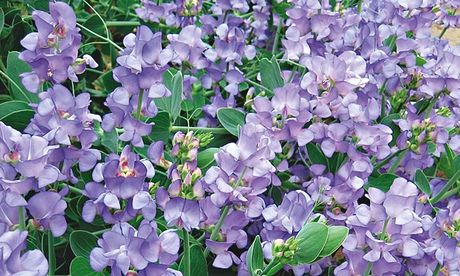 Lord Anson's pea has blue flowers from June to September
What is it? Sowing sweet peas in autumn for a gorgeous display the following year always seems a good idea, yet allow watering to fall by the wayside for even a day or two, and your seedlings are toast. (And let's not even mention those seed-stealing mice.) If this sounds familiar, I bear good news: Lord Anson's pea, Lathyrus nervosus, is a hardy perennial ornamental pea with clear blue flowers from June to September and grey-green foliage. And who was Lord Anson? He was captain of HM Centurion, the ship that collected the seed from the Straits of Magellan in 1744 (though some sources credit the cook for the discovery, rather than the captain himself).
Plant it with? In The Morville Year, Katherine Swift says she grows her Lord Anson's pea through a yellow climbing rose at the foot of a warm wall. Expect a height and spread of 120cm x 30cm.
And where? In full sun or partial shade, but this plant hates winter wet, so provide with good drainage. Deadhead regularly.
Any drawbacks? It lacks the pungent perfume of its annual relative, the sweet pea, and is prone to the odd bout of mildew.
What else does it do? Like all sweet peas, it makes a great cut flower.
Buy it Unfortunately, Lord Anson's pea is no longer available from our supplier. However, you can order five plug plants of an alternative perennial sweet pea, Lathyrus latifolius, with flowers in shades of carmine, rose and white, for £9.99 or 10 for £14.98 (all prices include free UK mainland p&p). To order, call 0330 333 6856, quoting ref GU197, or visit our Reader Offers page. Delivery from June–July.