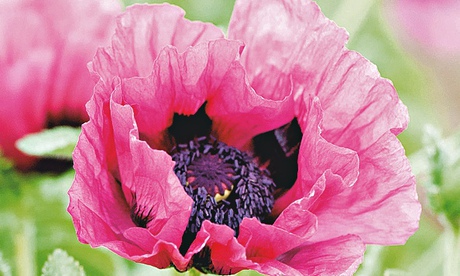 Poppy 'Plum Pudding': It's longer blooming than most oriental poppies.
What is it? An oriental poppy whose damson-flushed blooms don't fade unattractively or flop. The dictionary definition of "luxe" reads, "The condition of being elegantly sumptuous": it should be accompanied by a picture of this poppy. It's longer-blooming than most oriental poppies, too, flowering from June to August. Height and spread, 75cm x 60cm.
Plant it with? Combine with astrantias for the perfect cottage garden picture: either the white 'Shaggy' for contrast, or the deep ruby 'Venice'. Or with dark purple foliage such as the smokebush (Cotinus coggygria 'Royal Purple'), Heuchera 'Plum Pudding' (spooky, eh?) or a new discovery, Hibiscus 'Mahogany Splendour', a half-hardy annual grown from seed.
And where? It's a hardy perennial, so think hard about your planting spot, because it should be with you for many years. It needs full sun and fertile, well-drained soil.
Any drawbacks? If you want a really long display, deadhead to stop the plant setting seed, though that means missing out on the almost equally appealing seedheads.
What else does it do? It makes a great cut flower: snip off the stems when the buds are about to burst, and seal by dipping the ends in boiling water.
Buy it Order 24 plug plants for £9.99 or 48 for £14.98 (all orders include free UK p&p). To order, call 0330 333 6856, quoting ref GU168, or go to our Readers' Offers page. Delivery by the end of March.