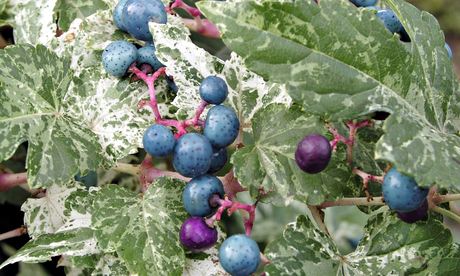 Porcelain vine: 'The best thing about it is its startling berries.' Photograph: Gilles Delacroix/Garden World Images
What is it? The best thing about variegated porcelain vine (Ampelopsis brevipedunculata var. maximowiczii 'Elegans', if you relish a tongue-twister) is its startling berries. Borne in abundance in autumn, they remind me of those tiny speckled Easter eggs, in every shade from palest green and turquoise through to shell pink and amethyst. The height and spread is 3m x 1.5m but I've heard of specimens topping 5m each way.
Plant it with? Avoid mixing it with other variegated leaves. It'll look good twined in with another green-leaved flowering climber. Try the annual cup and saucer vine (Cobaea scandens), or for a perennial, plant with Clematis 'Warszawska Nike' or 'Étoile Violette', both with deep purple flowers.
And where? Think like a clematis. Roots in shade, foliage in the sun. For the best-looking fruit, provide a warm, sheltered spot with poor soil, and restrict the roots by planting it into the ground inside a large pot.
Any drawbacks? It is hardy but it will die back in winter and start back to life in spring. The green flowers produced in July and August don't amount to much.
What else does it do? Use the beautiful leaves and berries in autumn flower arrangements.
Buy it Order one 7cm potted plant for £12.99, or buy three for £19.97. All orders include free p&p. Call 0330 333 6856, quoting ref GU196. Or visit our Reader Offers page. Delivery June and July.