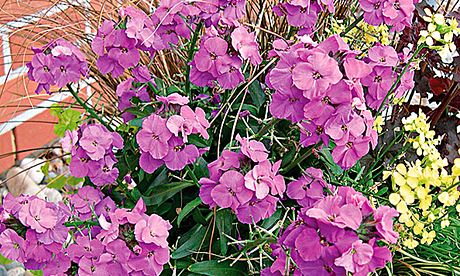 Wallflower 'Winter Joy': 'Bred for long-flowering and good scent.'
What is it? It's not indestructible, but the wallflower (Erysimum) is a forgiving, floriferous plant, ideal for beginners. 'Winter Joy' was bred for long-flowering and good scent, and will cope with most conditions, provided you don't drown it. Height and spread: 60cm x 50cm.
Plant it with? Match the lilac-pink blooms with forget-me-nots (Myosotis sylvatica), honesty (Lunaria annua) and spurge (Euphorbia × martini), all of which flower from March to June. Add magenta Geranium psilostemon, which starts flowering in June, to keep the display going until August. For something completely different, grow the huge, silvery leaves of a dramatic cardoon (Cynara cardunculus) in a sea of 'Winter Joy'.
And where? The clue is in the name: wallflowers prefer full sun and can cope with poor soils. The evergreen foliage should get through winter unscathed, especially in a sheltered spot. (Hence 'Winter Joy'?)
Any drawbacks? Wallflowers are shortlived perennials, so every few years you'll need to take cuttings or buy new stock. Prune by half after flowering, to stop them sprawling.
What else does it do? It's on the RHS's plants for pollinators list, so you'll be keeping wildlife happy.
Buy it Order four plug plants for £12.99 or eight for £17.98 (prices include free UK mainland p&p). To order, call 0330 333 6856, quoting ref GU186. Or go to our Reader offers page. Supplied as 40mm plugs. Offer closes May 31. Delivery late April to May.