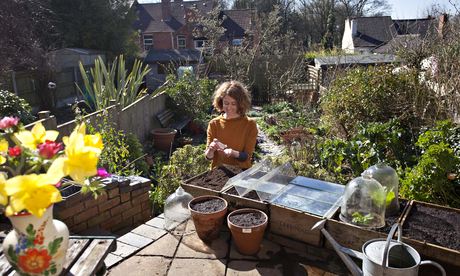 Alys Fowler in her garden sowing salad seeds. Photograph: Sophia Evans
If you're sick of spending money on bags of supermarket salad, Alys Fowler is on a mission to show you just how easy it is to sow a whole summer of salads from just five packets of seed. Alys launched our summer salad challenge last month, and we gave you the chance to order five packets of salad seed specially chosen by Alys, plus a dibber tool, for just the cost of P&P.
With any luck your seeds are on their way, so now is your chance to tap into Alys's salad-growing expertise by offering up your sowing and growing queries. She will be live online on Wednesday April 23 at 12.30pm for approximately one hour.
Please post your queries in the comments below. Please include as much useful information as possible such as your location, type of garden/soil and so on so Alys can give you a detailed answer. If you have any problems posting, and would prefer to email in your question, please send it to jane.perrone@theguardian.com.
Find out more about summer of salads
– Read Alys Fowler's feature on growing salads from just five packs of seed
– See Alys sowing salads in her garden in our gallery
– Order your free salad seeds – get five packets specially selected by Alys Fowler, plus a dibber tool – you just pay P&P