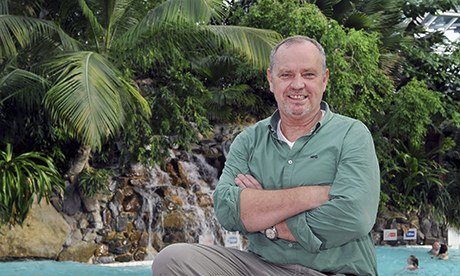 Botanist Jean Henkens in the subtropical swimming paradise at Center Parcs Elveden Forest, Brandon, Suffolk. Photograph: Dobson Agency.co.uk/Keith Meatheringham / Dobson Age
"Does a tree feel cold in winter? Does he know he has to wait for the spring?" wonders Jean Henkens. Working as a biologist for Center Parcs for the past 30 years, saving plants and trees from all over the world for their jungle-like indoor swimming pool complexes, he knows the answers are yes, and yes.
From Sumatra to Peru, Henkens travels the world to save trees earmarked for destruction as virgin tropical rainforest is burned to make way for lucrative but environmentally costly palm oil plantations. "I am one of the fighters against the green oil mafia in Indonesia and Africa. I am very against that because it's slavery for the people – they are promised a lot before and the concessions that go to people who are incredibly rich already. They are making the people poor and they are making the soil poor."
Henkens cultivates contacts with local people, governments and the WWF, who tell him which areas are being targeted – then he arranges for suitable trees to be rescued – dug out by hand, taken to a nursery he sets up in preparation for the new arrivals and cared for until they are ready for transportation and replanting at one of Center Parcs' European locations.
Opposing the companies profiting from palm oil is a risky business. "They shoot at us sometimes. The last trip was very dangerous. We had to escape. A Chinese company hired some security people who were very against me. I escaped from Sumatra into Malaysia, but even there I was not safe. I had to leave Malaysia in 24 hours because they were looking for me, and even in Europe in some places I am not safe." Why bother, then? "I have to do it, it's my job." But it's more than his job, it's Henkens' life. "I don't have a family. I always have the feeling it is my company. I act always as if it is mine."
Henkens only takes small cuttings and seeds from virgin jungle, while all the mature plants and trees come from land on the brink of destruction, and would be dead were it not for his intervention.
When the trees arrive in their new home, under the glass dome of one of Center Parcs' subtropical swimming paradise (or "Aquamundo" as it's more concisely referred to in Europe), Henkens' empathy for trees teamed with his scientific knowledge allows him to track how the tree – he always refers to them as "he" – reacts to such a shock. "I can notice that he is curious. I can see under the microscope, his leaves, that he is afraid for the first time. The water is a little bit cold and the soil is different. I look four days later and the first roots are discovering."
Henkens' work has given the Center Parcs its distinctive look, and the tropical trees wrenched from their homes thousands of miles away seem to thrive in the steamy 30C heat. The trees Henkens planted in the oldest UK Center Parcs at Sherwood Forest 26 years ago are still going strong.
But do the screaming children flinging themselves down waterslides – or their parents – realise the significance of small slice of jungle that surrounds them? Henkens believes fervently that they do. Regardless, the plants grow on, pumping out enough oxygen for 300 people, dampening down excess noise and turning a building into a landscape.