How did the blog get started?
I started blogging way back in 2001. At the time, blogging was just starting out and it was something I was just trying. It had no particular direction, it was just things I found on the internet. But then we moved to a house with a garden and decided to try and reduce our food miles by growing some plants on the patio. It just spiralled from there. We had more and more plants and I wrote about it, and the blog became more popular. There are lots of gardeners in my family, so I suppose it's in my roots. But gardening wasn't something I'd always done, simply because I had nowhere to garden. It was just when we moved into our first house with a garden that it just kind of took off.
What have you learned about gardening and about blogging?
If there's one thing that gardening teaches you it's patience. Plants grow at their own speed, and there's always next year if it doesn't work out. And in our really fast world, it's quite nice to be able to sit out there and watch plants doing their own thing, at their own speed.
My gardening has been self-taught. I've never done any courses or had any formal training. I've read lots of books, especially when I was just starting out by gardening in containers. I got into permaculture, which is an aspect of sustainable gardening and environmentally-friendly gardening, and what we grow has always been organic. I had a book called The Edible Container Garden by Michael Guerra. It's a lovely book about growing your own food in small containers, and he's a permaculturist as it turns out. After reading the book I went on to learn more about it.
Would you say you're a permaculturist?
No, not really. They do training for that and their ethos works for me – I believe in the things they do but I wouldn't consider myself to be a permaculturist. There's lots of planning and design involved with permaculture, and I'm more of a spontaneous person. But we do try to live sustainably. We recycle and we've tried to reduce our energy impact. We've had energy monitors and insulated our loft and everything. I try.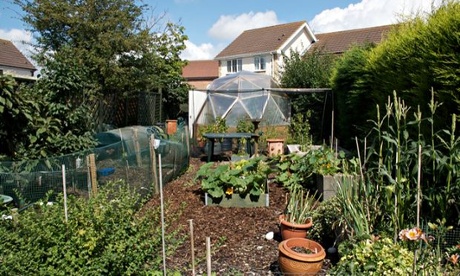 Where do you think you blog sits within the larger field of being green?
My blog has evolved to become more about less common plants that you can grow, low impact plants – like perennials – and those that are more suitable to climate changes. And that kind of thing connects with permaculture, as that's about the kind of plants you can plant in your garden that involve less input but produce more output. What has been popular over the past year are what we call the Lost Crops of the Incas – plants that are originally from the Andes. It's about things such as oca – they're like potatoes but they come in really fun colours; red, yellows and oranges. There's also achocha which is a climbing plant that spreads like wildfire and produces green fruit that looks like fairy slippers – they have soft spines and curl up at the ends – you eat them like peppers but they're much easier to grow than pepper plants. They originated high up in the Andes so if it's not hot here it doesn't bother them at all.
What are you growing at the moment?
I have some sweet peppers here on my windowsill. They're my favourite plant. I also have some tiger nuts. They're an unusual plant. I tried growing them before but these are new ones sent from a friend in Canada. I also have some Chilean guava sitting on the windowsills. I also grow the normal things like potatoes, onion, and garlic.
What is your inspiration to keep gardening and writing?
My inspiration for the garden is certainly the plants – I've turned into a complete plant nerd. I can't not plant them because I want to see them grow and find out everything about them. And blogging – it gets under your skin. It's become such a habit now that I'd be lost if I didn't do it. But I like being able to share what I've learned about plants with other people. I've made some quite good friends through the blog and through social media – it's a great way to get to know, talk and meet people. I've actually been to a couple of meet-ups and met people in the flesh too which is good.
Emma blogs here and tweets here.
Interested in finding out more about how you can live better? Take a look at this month's Live Better Challenge here.
The Live Better
Challenge is funded by Unilever; its focus is sustainable living. All
content is editorially independent except for pieces labelled
advertisement feature. Find out more here.