Tell us a little about yourself and your sustainable home
We have four acres of land with our house; a woodland, small orchard, garden, poly tunnel and veg plot. We manage this land organically, for the benefit of the wildlife and to be largely self-sufficient in our own food and wood.

 We try to live a more self-sufficient, self-reliant lifestyle here as best we can. We grow our own organic fruit and veg and we make lots of cider, wine, and jams and chutneys, and we share our lives with hens, cats, guinea pigs and assorted wildlife.
We produce a very small amount of landfill waste here each week – we aim for a tiny carrier bag worth or less – all else is reused, recycled or composted. We have our own water supply and sewage treatment facility. In the winter we mainly use our super efficient wood burner, which burns our own logs, to keep us warm. The photovoltaic system on our garage roof generates a substantial amount of the electricity we use, and our hot water mainly comes from the solar thermal tubes on the roof of our house.
What made you decide to start living sustainably?
I don't know that we ever made a conscious choice to live sustainably. We have always recycled, saved water, composted, cooked from scratch and grown some veg, as that was the way both of us – my husband and I – were brought up. For many years we both worked as research scientists and lived in the suburbs of a city with a very small garden, but we wanted to move to a more rural location with a bigger plot of land. We finally found this place in 1997 – it had far more land than we had intended to buy, but we fell in love with the woodland.
When we moved here we were living in a place where environmental concerns affected us more directly. We were growing far more of our own food and could see at first hand the effects of pollution and climate change on the wildlife around us.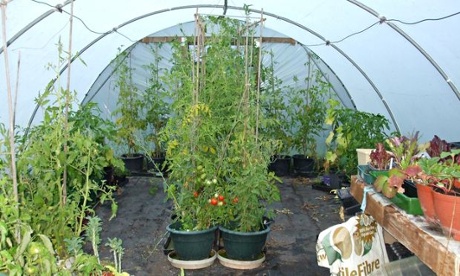 All this became even more important when we had a daughter. Our concerns
about the future effects of climate change suddenly had a very real
focal point; our child and her future. With that in mind, how could we
not try to do something about it? So we gradually began to grow more
food, campaign more, reuse and recycle more, drive less and make more
stuff for ourselves.
What inspired you to start your blog?
I have always loved to write and when I started eight years ago as a master composter [volunteers who encourage people in their local community to start composting at home, and offer support to people who are already home composting and may be having difficulties or need encouragement] a friend asked why I didn't write a book to share my knowledge about composting, woodland management and environmental issues. I thought it sounded like a good idea and started the blog – the book is still a work in progress – and here I am in 2014 still blogging. The blog is really my record of what I do from day to day, so I might write about something I have done in the garden or wood, an article I have written for a magazine, the latest batch of chutney I have made, a training course I have run in the wood or just my daily routine of cats, chickens, compost and mud. I also write detailed "how to" articles on the blog as I frequently get asked a lot of questions about composting, growing, crafts and chicken-keeping and it seemed the best way to answer them all. I hope they are useful to people.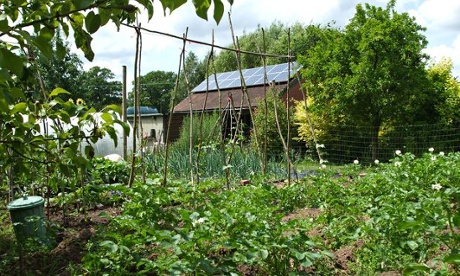 What challenges do you face in staying green?
I don't consciously think of us as green to be honest. We try to be as self-sufficient as we can, while maintaining a comfortable lifestyle and having fun. Like most people we are on a limited budget, and increased fuel and food costs mean if we burn our own wood, grow our own food and mend clothes it helps us to stretch our money further. We do have to buy things and we try to shop locally where possible and only buy sustainable, ethical items. We are also aware that we live in a rural area which means we do have to rely a lot on the car. We do as few trips as possible and always cram many errands into one trip. All this adds up to a more green way of life, I guess.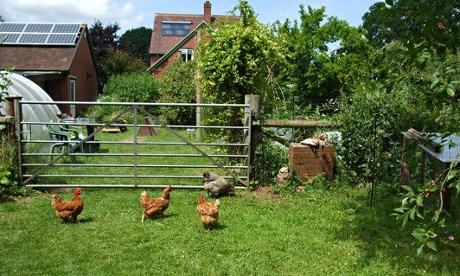 What inspires you to keep living sustainably and writing about it?
Some of it is financially driven, we are on a limited budget and have to do a lot of the work ourselves if we want to get it done. My husband is retired now but spends a lot of time renovating and improving the house and working in the garden and wood with me. He is involved in an ongoing process of renovating our 108-year-old house to make it as energy efficient and comfortable as possible. This does have the bonus of reducing our energy bills as well as our carbon footprint.
The other reason is, well it's fun! Most of the time, anyway. I'm not so sure about mucking out chickens in the pouring rain or felling firewood in the depth of winter while suffering from a heavy cold. We are blessed to live where we do and I am very conscious that I am so lucky to live here.
But mostly I love communicating what we do here and I hope that people will be inspired to have a go as well. I am so happy if someone says "I grew some herbs" or "I started making compost". I am passionate about helping children and adults to live a more sustainable life and see the wonder of our natural world.
Sarah is the author of The Compost Bin and tweets @Compostwoman.
Interested in finding out more about how you can live better? Take a look at this month's Live Better Challenge here.
The Live Better
Challenge is funded by Unilever; its focus is sustainable living. All
content is editorially independent except for pieces labelled
advertisement feature. Find out more here.