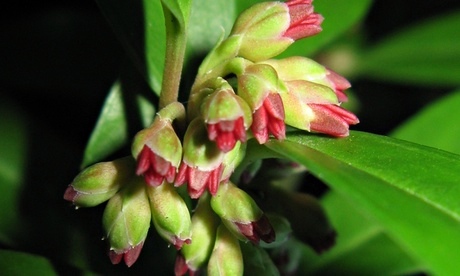 Sarcococca hookeriana v. hookeriana. Photograph: Robbie Blackhall-Miles
The other day, I stepped inside a polytunnel and wanted to stay in there forever, certainly until some time in March. It was warm, compared with outside, and the air was full of the subtle, sweet fragrance of sarcococca, or sweet box. On that particular day it was S. wallichii in flower, but from mid-November to mid-March, heavenly smells waft from this polytunnel and follow me around the garden.
Sarcococcas are not new to British gardens. The first to be introduced was S. hookeriana v. hookeriana; a medium-sized, suckering, evergreen shrub. This was discovered by Sir Joseph Dalton Hooker, sometime around 1825 and has been a favourite ever since. Over the years many more have been introduced to British gardens, some only making it to us in the past few decades. S. wallichii was discovered in the wild 1821 by Nathaniel Wallich, described in 1916 by Otto Staph, but it took until 1994 to find its way into British cultivation. Hailing from the Singalila ridge, near Darjeeling, at 2450m above sea level, it has been happy outside here in North Wales for over 15 years.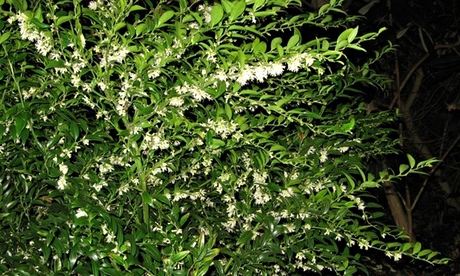 Sarcococca ruscifolia v. chinensis. Photograph: Robbie Blackhall-Miles


In 1980 Roy Lancaster collected and subsequently introduced S. ruscifolia v. chinensis from Yunnan in China. One form of which S. ruscifolia v. chinensis 'Dragon Gate' (he found it growing at the entrance to the Dragon Gate temple) is particularly good, flowering heavily and not getting too large at 1.5m. Another fairly new sarcococca is the elegant S. saligna. It's a rarity in cultivation, but found its way to these shores from Pakistan via the renowned plantsman, Maurice Foster.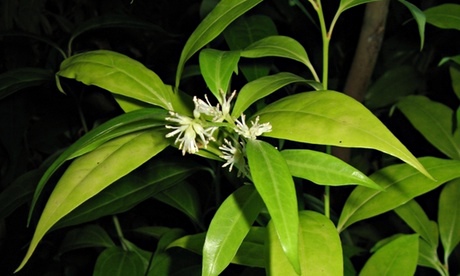 Sarcococca wallichii. Photograph: Robbie Blackhall-Miles


There are some more recent introductions which are best suited to a warmer spot in the garden, including some broader-leaved varieties. Sarcococca balansae is glossy-leaved with interesting veination, making it worthwhile even when not in flower. The undulating deep green leaves of S. trinervia are a fantastic foil to its green-flushed white flowers. S. vagans has 2.5m stems flushed with red flowers and S. zeylanica's 3m long, arching stems are adorned with 10cm-long leaves, bearing buttermilk flowers. They will all grow in a sheltered site, maybe against the protection of a house wall, and if planted next to a window will fill your house with scent too.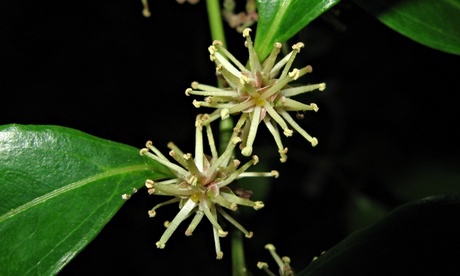 Sarcococca zeylanica. Photograph: Robbie Blackhall-Miles


I grow sarcococcas at home in huge pots, one on either side of our front door. The door faces North, is protected from cold winds by the houses opposite and doesn't see much sun which suits them just fine. They are commented on regularly by the post man (another common name for them is postman's friend) and we have met many of our neighbours due to them stopping to admire the smell. For me, growing them in pots is best, as they prefer a neutral to alkaline soil; my soil is far too acidic for them.
Try growing a flowering, herbaceous climber through them to increase their interest into the summer or, if you have room, plant them in drifts as a lush green backdrop to other plants. Do however plant them somewhere that you will get close to them as you are going to want to stop and sniff regularly. Often I walk past a sarcococca in summer and have a small pang for winter and the return of its heavenly scents. On that note I will head back to the polytunnel and breathe in deeply so I remember that smell in July.
• Robbie Blackhall-Miles is a modern day plant hunter's propagator and gardener. He is personally interested in ancient families of plants and blogs about these on his website fossilplants.co.uk. He also tweets as @fossilplants.