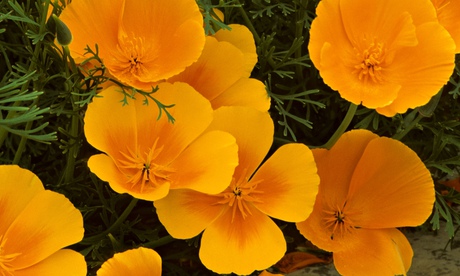 On with the show: the brilliant California poppy, or Eschscholzia californica. Photograph: Bill Coster/Alamy
The soil in the garden has been hammered where it has gone without mulch. Winter rains marked their relentlessness in tracks down the slopes, exposing the stones in the gullies and drawing out deltas of silt. But where I mulched with manure this time last year, a dark, spongy crust has held everything together, and in this perfect environment the first of the annuals are already germinating.
The opium poppy seedlings were the first to show life, their tiny cotyledons silvery-grey and needle thin. They pepper the ground in hundreds and thousands where they were cast from their parents, marking the moment when you know things are on the move. It would be impossible to weed them and I leave the seedlings to battle it out with the slugs and elements.
This is the joy of the hardy annuals and I take advantage of their opportunistic nature. They will plug the gaps between the perennials. In the cracks in the concrete hard-standing are several seedlings of California poppy – the first rogues to break away from a parent colony that I started off in the sun-drenched beds up by the house. It is a delight to find them taking advantage of the ugliness and soon they will have made something startling out of the farmer's forecourt and will probably look a lot better than they did in the bed, where they grow leggy in optimum conditions. Their opportunistic offspring will grow hard and compact, eking their living out of next to nothing as if they were on a Californian hillside. You know your plants are happy when they start to seed about and I will not battle to keep Eschscholzia californica in the beds. The opium poppies are the same. It will be sunshine that dictates where the seedlings thrive.
Not so the calendula, jostling for position where the seed fell to earth last autumn. Happy to develop under a little more cover, they will have to be weeded out from among the roses if I am not to have a battle on my hands. I cannot complain and love their willingness to pepper the garden with colour in the summer months and the fact that it was just a handful of seed from my London allotment that made the journey here.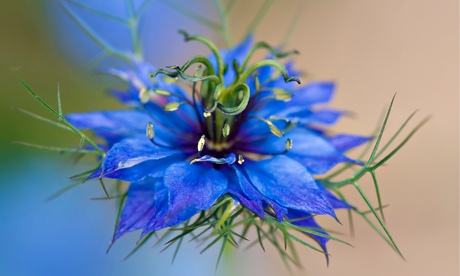 Centre stage: dainty love-in-a-mist. Photograph: Alamy


I'll let self-sowing take its course with prolific seeders, but most hardy annuals need a little help to get them going in the first place. A pinch of seed goes a long way and with seed as fine as fairy-wing poppies or love-in-a-mist it will go further if you mix it with a little compost or horticultural sand so that it can be spread more easily and over a greater distance. Most hardy annuals also like to be sown direct and not disturbed once they have germinated, so it is critical that ground is prepared well with forked-in compost and weeded before broadcasting.
Linaria, cosmos, cornflower and the glorious umbelliferous Ammi majus are available in ready-made mixes at Pictorial Meadows. These can be sown over the next month or so and are a quick fix if you have some bare ground and need colour quickly in the summer.
I have started to work up my own meadow-seed mixes, and though they are very hit and miss they are a wonderful way of inviting the opportunists in. This year and in a move that will break the spell of winter, lacy Orlaya grandiflora, Viola "Bowles Black" and red flax will be sprinkled in the gravel paths of my vegetable garden to see if I can soften the edges and make it feel lived-in and instantly lively come the summer.
Get growing
A clean seed bed will mean your hardy annuals can be left undisturbed by weeding. Sow finely to avoid thinning and save your time and energy for other tasks.
Email Dan at dan.pearson@observer.co.uk