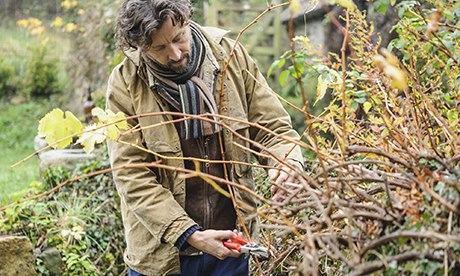 Going for the chop: Dan pruning a vine. Photograph: Jason Ingram for the Observer
Get the orders in
Long evenings allow for desktop gardening – I try to get my orders in so that when things start moving outside I'll have time to be out there. It's worth looking over any garden notes you've made. I forgot to look at my diary and missed the Anya potatoes this year. There is still plenty of time to order seed, onion sets and potatoes, but get the dahlia order in early as demand is high among the specialists and they always sell out of the varieties you really want.
Tread softly

If it is wet, try and stay off the beds and the grass. Heavy soils are prone to compaction, the air being squeezed out of the tiny spaces between the soil particles. If you need to move across the garden or track over a bed, wait until the ground is frozen, or lay boards to spread your weight. Grass will blacken if you walk on it in frost.
Digging in

Heavy soils benefit from frost to break down clods, so work in manure or compost early in the winter and leave things rough. The action of freeze and thaw will have made cloddy ground friable – the roughness can be knocked out in dry weather with a rake. I am starting a no-dig regime for some vegetable beds and will simply mulch them over the winter. The earthworms will drag a top dress of mulch into the soil and the fauna and structure of the soil can go undisturbed.
Making cutbacks

As soon as the last leaves are down, the pruning season can start. Trees and vines prone to bleeding should be pruned before the end of the year, or energies will be wasted in lost sap. Birch, maple and mulberry are all prone, as are grape vines, so start with these before other trees.
Freestanding apples and pears can be winter-pruned from now through March. Prune to remove diseased wood. Aim to keep air in a tree by removing congested growth and crossing branches. Never prune too hard, as this will encourage "water shoots". Encourage fruiting spurs by tipping this year's leaders back by a third and the laterals back to three or four buds.
Cuttings file

I have put a mass of box cuttings into a trench at the base of a cool wall. They can be transplanted in a year. My root cuttings of comfrey have arrived in the post and will be grown on in the frame. "Bocking 14" won't seed, but its nutrient-rich foliage can be stripped and thrown on to the compost heap or soaked for four weeks make a comfrey liquid feed.
It is time to take hardwood cuttings of willow, coloured-stemmed cornus, elder and vines. Finger-thick wood the length of a pencil makes the best cuttings, with a horizontal cut below the lowest bud and a sloping cut to shed the water above the top. Plunge half their depth in a trench or pot and wait for the alchemy to happen.