Don't be deterred from trying to grow food if you don't have a garden. As long as you have a bit of outdoor space that gets a few hours of sun each day – whether that's a window sill, balcony, patio, roof terrace or a bit of concrete outside the front door – you can grow food in containers.
It's possible to grow more food in pots than many people realise. You can be self-sufficient in herbs and salad for most of the year even if you only have a small balcony. And you will also be able to harvest a substantial proportion of your other vegetables during the summer and autumn months.
In the coming weeks, I'll be taking you through the key steps in creating your own productive and beautiful edible garden. Don't expect everything to be an outstanding success from the start. Indeed, you'll learn the most when it is isn't!
But growing is not as difficult as it sometimes sounds. Follow the easy steps I'll share with you, and you should achieve some bountiful harvests in year one. You'll quickly find yourself hooked on the taste, the freshness and the joy of growing your own.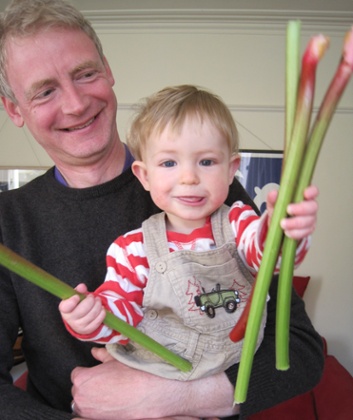 The first thing you need to do is to choose the right crops to grow.
Although it's quite possible to grow almost any crop in a container,
when space is at a premium you want everything you grow to put on a star
performance. A great container crop needs to be either highly
productive or fast growing; to be expensive or hard to find in the
shops; to be beautiful or attractive to beneficial insects; or to give a
good yield over a long period. And, of course, you'll only want to grow
what you love to eat. I want everything I grow to tick at least two of
these boxes.
Secondly, you need to choose crops that will grow
well in the amount of sun you have. This is particularly important when
growing in a city as many small urban spaces only get a few hours of sun
each day. As long as you do get some sun you can still grow but you'll
need to choose carefully.
So you'll need to observe your growing
space. You want to know how much sun it gets and which bits are sunniest
and least sunny. A handy way to do this is to take photos every couple
of hours throughout a sunny day. You'll just get a rough idea to begin
with. Keep observing and learning about your space through the year. The
sun patterns will change considerably as the sun gets higher and
travels through a greater arc.
Depending on how much sun you have, here are some of the crops I've found to do particularly well in containers.
3-4 hours of sun (less than half a day):
All
salad leaves: amongst the best are pea shoots, fava bean shoots,
rocket, mizuna, sorrel, land cress, tatsoi, mustard red giant, texel
greens and red orach
Stir-fry greens: Chinese cabbage, kailan, pak choi
Leafy greens: rainbow chard, cavolo nero
Herbs: mint, chives, parsley, lovage, coriander
Fruit: alpine strawberries, blueberries
5-6 hours of sun (half a day):
Nasturtiums, pot marigolds
Beans and peas: French beans, runner beans and snap peas
Root veg: potatoes, radish, carrot, mooli
Herbs:
rosemary, thyme, sage, basil, Vietnamese coriander (although these
plants need full sun to develop their finest flavour, they still grow
and taste good in less sun)
6 hours + sun (full day):
Tomatoes – a small bush variety like 'Cherry
Cascade' for hanging baskets or a vining variety like Gardener's
Delight for bigger pots
Tomatillos
Chillies
Tromba squash
Strawberries
Now is a good time of year to get your
seed ready for the year. If you're growing in a small space you'll
only need a few of the seeds in each pack – so if you can club
together with friends or neighbours you can have fun sharing (and
comparing results) as well as cutting the costs significantly.
Sowing times vary, but most of these
crops are easier to start from seed in April or May. The exception is
tomatoes, chillies and tomatilloes – if you have a bright window
sill inside now is a good time of year to sow them. If you don't
have the space (or the time) to start your plants inside, a good
alternative is to buy these as small plants in April or May.
Next week I'll be writing about
choosing the right containers for the right crop, so that you can
start collecting these ready for growing.
For
more information about container gardening, visit Mark's website
Vertical Veg. Mark's online container growing course, The Art of Growing in Small
Spaces, begins in April.

Interested in finding out more about how you can live better? Take a look at this month's Live Better challenge here.
The
Live Better Challenge is funded by Unilever; its focus is sustainable
living. All content is editorially independent except for pieces
labelled advertisement feature. Find out more here.