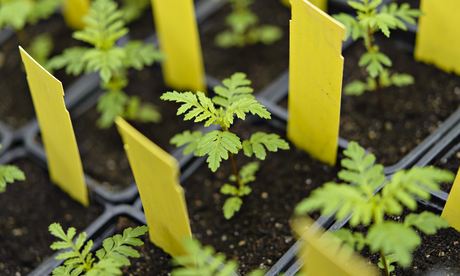 The UK's Garden Centre Association is expecting a 15% to 20% increase in sales in Easter 2014 over that of 2013. Photograph: Clemens Bilan/Getty Images
Garden centres, supermarkets and DIY stores are expecting the consumer-led recovery in the British economy to drive a strong turnout by shoppers this Easter weekend, as a warmer spring helps businesses rebound after a wet start to the year.
"We're feeling more optimistic. We'd like to think we'll see a 15% to 20% increase in sales this Easter over the same weekend last year. A later Easter is always good for us," said Will Armitage, chairman of the Garden Centre Association, which represents more than 200 UK centres. Armitage's optimism comes as the association's members saw sales rise by more than a quarter in the first three months of this year as gardeners acted on a balmy start to the spring.
Even centres in areas hit by flooding have seen an overall rise in sales as families clear up and revamp their gardens after the wash-out.
Meanwhile, Barclaycard said DIY stores saw a 14% rise in first quarter sales and garden centres a 22% increase over the same period as it said a surge in the housing market also helped to boost sales. The housing revival is well timed for DIY retailers and garden centres, for whom Easter is a far more important trading period than Christmas.
"The good weather forecast for much of the Easter weekend means both categories are likely to continue their strong start to the year," said Chris Wood, managing director of Barclaycard.
The number of shoppers out and about is expected to rise 6.1% over Easter compared with the same period last year. That follows a 2.6% rise in March, the largest increase for nearly a year according to Springboard, which monitors shopper numbers. "Improved consumer confidence, increasing house prices and lower unemployment are all starting to have a positive impact," said Diane Wehrle, retail insights director at Springboard.
But Armitage said this year's figures are flattered by last year's frosty spring, which kept gardeners indoors and generally dampened consumer demand. "Last Easter we were under snow," he said. "It's not wonderful this year, there's not a dramatic upturn in the economy, it just shows that spring over the last few years has been shocking."
Supermarkets said they were expecting Brits to roll out the barbecue and host parties. Sainsbury's predicted it would sell five times more barbecue products this weekend than any other so far this year, including 375,000 packs of burgers.
Waitrose said shoppers were preparing to entertain friends and family for Easter weekend as gammon sales increased by 12% and lamb sales at its service counters leapt more than 300%.
The unusually sunny weather has also brought forward the UK asparagus harvest so homegrown spears will be on supermarket shelves over the bank holiday weekend, a week ahead of the traditional start to the season. A spokeswoman for British Asparagus said: "Our hot summer last year means that there is plenty of energy in the asparagus plants and we can look forward to a longer season than in previous years."
Supermarkets are hoping the good weather will bring out shoppers who have been searching out bargains and avoiding waste as they cope with an ongoing squeeze on their available cash despite an upturn in the economy. The grocery market grew by just 1.5% in the 12 weeks to the end of March, according to market analysts Kantar Worldpanel, its slowest pace for 12 years.