The last time I grew anything I was nursery-school age, planting a watercress seed in an eggshell. But today, as a volunteer at OxGrow, a sustainable community garden in south Oxford, I am told our aim is to grow two beds of green manure plants, as well as alliums, brassica, carrots, parsnips and beets. The OxGrow co-ordinators see my confused face and suggest we sit down and take it from the top.
Hogacre Common eco park – the home of OxGrow – was once a college sports ground, but was transformed in 2011 by a local community group into a vegetable garden. On Sundays between 1pm and 4pm the public are invited to come and help the garden grow. During harvest you even get to take home a bag of vegetables. Better yet, as Madeleine Ellis-Petersen, the OxGrow secretary and my gardening pal for the day, tells me, "you don't need to know anything about gardening at all."
There are about seven of us here today, mostly made up of students from Oxford University. Regulars get here early, but there's no pressure. "You can come for 40 minutes, or three hours," says Madeleine.
With Madeleine's help, I start removing weeds. After a few attempts I finally get the hang of using the fork, digging deep into the soil, then turning it over with one quick motion to pull out the weeds. It's then time to plant the garlic. I'm taught that I can use shop-bought cloves (who knew?) as my seeds. The key is to plant one clove at a time, holding the green tip between the fingers and then covering it with soil. I start poking them in, roughly four inches apart, and it feels great to be getting dirt under my nails.
Community gardens continue to pop up all over the country. According to the Federation of City Farms and Community Gardens there are an estimated 5,000 similar projects across the UK, engaging as many as five million people a year. One of my fellow workers, Courtney, 32, has just moved here from Canada to study, and says she will be taking back tips she's learned at OxGrow. "I have a small shared garden in Toronto, which I didn't know how to take care of, so coming here has been really helpful," she tells me. And it's not just the gardening skills; Courtney tells me it's been a great way to make new friends. "I wanted to meet new people with similar interests," she says. "I've found that with OxGrow."
I second that. By the end of the day I've made some great friends and been invited back next week. I'm not armed with baskets full of veg just yet – but harvest time is on the horizon.
For more information on OxGrow, visit oxgrow.org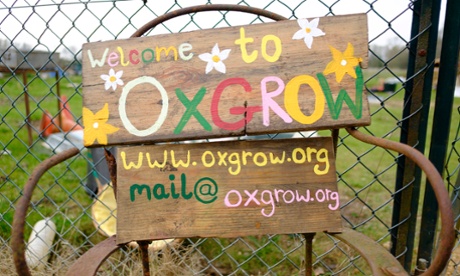 Community gardens around the country
Glasgow Local Food Network Has a useful map of local community gardens as well as links to other Scottish resources such as Grow Your Own Scotland. glasgowlocalfood.blogspot.co.uk
Grow Sheffield Useful information about the city's community gardens and food growers; details of events including organic food-growing classes. The Old Junior School, Southview Road, Sheffield S7 1DB; 0114 258 0784; growsheffield.com
Growing Birmingham Celebrating fruit and veg growers in gardens and schools across the city – an information hub mapping 8,000+ allotment plots as well as community orchards and hundreds of other patches of green space. growingbirmingham.org
Capital Growth London-based food growing network that offers training on everything from growing to selling, and help for those working in schools. Website has a map of the capital's community gardens. 0207 065 0902; capitalgrowth.org
Brighton & Hove Food Partnership Covering all aspects of food from home-growing to cookery courses, healthy eating, support for food banks, composting and reducing waste. Brighthelm Centre, North Road, Brighton BN1 1YD; 01273 431 700; bhfood.org.uk