Until 50 or 60 years ago, saving some of your own seed was an integral part of the gardening year for most vegetable gardeners. Over generations, their dedication helped to create a rich diversity of vegetable varieties, adapted to suit the local soil and climate. Knowledge of how to save seeds has largely been lost by amateur gardeners and today many of us assume that they are something you have to buy in packets from seed suppliers.
This is a shame. Not least because there is something immensely rewarding about saving a few of your own seeds. You get to watch them grow the following year. You can share them with your friends and neighbours, or give them away as presents. You can take them to seed swaps to exchange for other intriguing varieties. And by saving your own seeds you can also help to preserve heritage varieties, many of which are in danger of being lost.
Some vegetables are easier to save seeds from than others. When growing in a small space, it's easiest to save good quality seeds from "self-pollinated" crops. This is because self-pollinated plants hold all the genetic information they need for healthy offspring within one plant (so even if you are only growing one plant you can save seeds from it – although the more the better). Self-pollinated crops include tomatoes, French and runner beans, lettuce, peas, chillies, and peppers.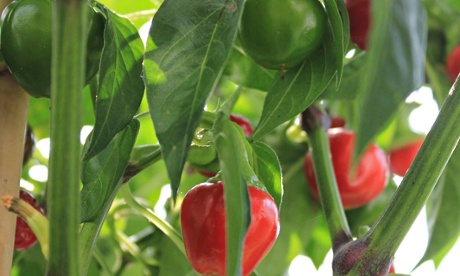 Cross-pollinated crops, on the other hand, present more difficulty when saving healthy seeds. This is because the genetic information for a healthy population is not held in one individual plant but scattered across several. So to save healthy seeds you need to grow a larger number, maybe 16 plants or more (the number varies with the crop). You'll also need to prevent them cross-fertilising with your neighbour's crops. Cross-pollinated plants include most root crops, brassicas (such as rocket, mizuna or cabbage), chard, spinach, onions and sweetcorn.
As well as knowing which crops are easiest to save seeds from, there are also a few golden rules that apply to all seed saving.
Do:
Save seeds from healthy plants.
Ensure your seeds are dry before storing them – and keep them somewhere cool and dry. A large glass jar with a lid or a plastic Tupperware is perfect.
Don't:
Save seeds from F1s. F1s are hybrids, and if you save seeds from them, the plant you grow is unlikely to have the same characteristics as the parent plants. (Seed packets tell you if the plant is an F1).
Two of the easiest seeds to save (as well as being two of the best crops for small spaces) are tomatoes and French beans. Both have the added benefit that there are many intriguing heritage varieties that you never see in the shops (check out the Heritage Seed Library for their wonderful collection).
How to save tomato seeds step by step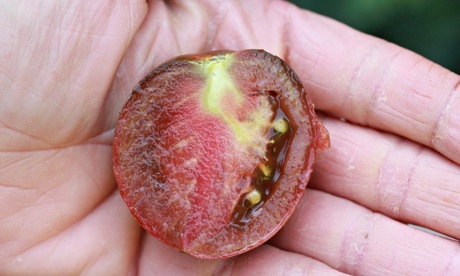 1. Identify a healthy, ripe tomato on your plant. You can save the seeds as soon as it is ripe to eat – but it is even better if you can leave it on the plant for a week or two more to let it ripen further (so it's over-ripe in eating terms). This gives the seeds more time to mature. Tie a label round the fruits you want to save seeds from so you don't pick them by mistake!
2. Pick the tomato and cut it in half. Spoon out both the seeds and pulp into a bowl or pot, mush it up slightly, and add a few tablespoons of water.
3. Leave the gooey mess in a warm place to ferment. If it goes a bit mouldy that is normal and nothing to worry about. The purpose of the fermentation is to break down the gel that surrounds the seed coat of tomatoes.
4. After three to four days, skim off the debris from the surface and clean and rinse the seeds in water (a metal sieve can help).
5. Separate the seeds (so they don't stick together) and leave them to dry on a plate or a glass surface. Avoid drying them on paper as they can stick.
6. When they are completely dry after a few days, pop them in a paper envelope, and label it with the name of the variety and the date you saved the seeds.
You can watch a video of Peter Brinch, founder of the campaign for Open Pollinated Seeds, doing this here.
How to save French or runner bean seeds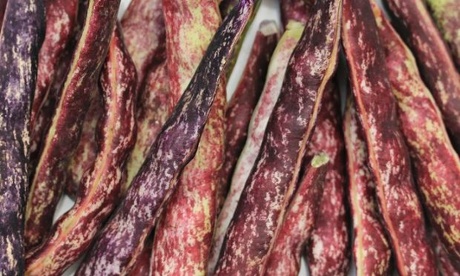 1. Identify healthy ripe beans to save seeds from. Those at the bottom of the plant will ripen and be ready to save first.
2. Leave the beans on the plant until the pods swell, and turn yellow and then brown. When brown, harvest the pods on a dry day.
3. Bring the pods inside and leave them to continue to dry. When the pods are crisp and crackle when broken, shell the beans and put them in a packet, and label.
Even if you're just growing in a few containers, you can have a lot of fun and satisfaction in giving seed saving a go. I urge you to give it a try.
Next time: shoots and micro greens you can grow throughout the winter.

Interested in finding out more about how you can live better? Take a look at this month's Live Better challenge here.
The Live Better Challenge is funded by Unilever; its focus is sustainable living. All content is editorially independent except for pieces labelled advertisement feature. Find out more here.